The Best Bedside Bassinets To Help Baby (And You) Score a Better Night's Sleep
We only recommend products we love and that we think you will, too. We may receive a portion of sales from products purchased from this article, which was written by our Commerce team.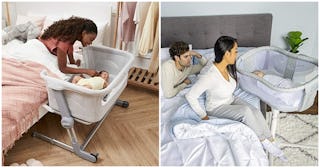 Amazon
A bedside bassinet is probably on your to-buy or baby shower registry list. When you're pregnant, you know to invest in several big-ticket baby gear items, like a crib, crib mattress, dresser, changing table, and glider, but one that you might be forgetting is, how do we put this, incredibly crucial to your survival during those first three months of your baby's life. You'll know it best as a bassinet, but it's also known as a bedside sleeper.
We know what you might be thinking: "I'll have my baby sleeping in the crib within a few weeks." Ha! You just wait. Not only is it more manageable to have your baby sleeping in the same room as you during those first few months, especially if you're breastfeeding, but the American Academy of Pediatrics recommends it— for the first 6 months, in fact, or, ideally the first year.
What is a bedside bassinet/bedside sleeper?
Because co-sleeping, or sleeping in the same bed as your infant, comes with its own share of safety concerns, it's best to saddle up your little one in a bedside bassinet. These are almost the same as regular bassinets, only they attach to your bed in some way, shape or form. Often, one side is convertible so it can be lowered when the bassinet is attached to your bed, or raised so it can stand on its own.
A bedside bassinet can either be lowered, raised, or swiveled into position so that your baby is snoozing as close as possible to you without actually sleeping with you. Trust us when we say that not having to get out of bed and zombie walk down the hall into your baby's room six times a night will be welcomed. Doing the middle-of-the-night feeds without even having to leave your bed will help you both fall back to sleep more easily.
Enter: the best bedside bassinets, according to moms who've made it past the newborn phase and lived to tell the tale.
The Best Bedside Bassinets & Baby Bedside Sleepers
This is one of the most popular bedside bassinets out there, mainly because it's a fully functioning bassinet that actually swivels as close as physically possible to your bed without actually having your child in bed with you, thanks to its 360º swivel technology. It also features a patented lowering bedside wall that can be locked in an upright position to make for easier middle-of-the-night feeds. It also comes with pretty much everything you need—a waterproof mattress and one machine-washable fitted sheet (although you might want to purchase a few more because, #newborns).
This bedside sleeper is quite similar in its design to the Halo bassinet, except for the fact that it doesn't swivel into position—instead, it has a drop-down sidewall that lowers to allow you to easily reach your newborn. And if you prefer to use the bedside sleeper as a standalone bassinet, you can simply put the wall back up. Other cool features include two side pockets to store essentials, like pacifiers and burp cloths, and built-in wheels with breaks to allow for easy maneuverability.
For the price, you can't beat the deal this bedside sleeper provides. Unlike other options, this one is meant to sit in the bed with you as opposed to alongside the bed. However, like most other bedside sleepers, it features rigid, vented walls that separate your baby from you during the night, giving Baby his or her own sleeping environment entirely. Your purchase comes with a nightlight, sound unit, waterproof foam mattress as well as a fitted, wraparound sheet, which is a total steal considering the price.
Like the Baby Delight brand but looking for something with a little more oomph to it? Look no further. The company also makes a bassinet and bedside sleeper combo that'll help you rest easy. (Or, easier. We all know sleep is never straight-up easy during this span of time.) This set-up is adjustable and helps make your baby more accessible — and over 3,400 Amazon customers have given it a five-star rating. "It is easy to put up, fits great against our bed and best of all, it has an adjustable incline! It was everything we had been looking for! Most bassinets we came across fit children up to 3 months or 12-15lbs (depending on [the] brand). Our daughter was in the 99th% for her height at birth and many bassinets wouldn't fit her after a month. This one is HUGE!" said one happy customer. It's available in four colors.
This bedside sleeper is appreciated for its versatility. If you can't make up your mind over whether you want a bassinet, bedside sleeper, standalone crib, or travel crib, you can just purchase this product and be done with the decision-making! It transitions from one mode to the next easily and features breathable mesh panels in each and every one. It's super durable thanks to a stabilizing bar, telescoping feet, and patented safety locks that keep the wheels in place when it's not meant to be in movement.
This 3-in-1 bedside bassinet has a wall that breaks down with a simple zipper contraption so you can easily attach it to your bed or raise it up and use it as a standalone bassinet. It has five adjustable heights so you can make sure it aligns properly with your bed. It also has built-in wheels and brakes, which makes it much easier to move around the room if needed. This maneuverability, as well as the fact that it's lightweight and easy to carry, also helps if you plan to use it as a travel bed.
This 2-in-1 sleeper has two modes—it can be used as a bedside sleeper as well as a standalone bassinet. It also comes with everything you need—a mattress, fitted sheet, carry case and a fastening strap to attach it properly to your bed. One thing parents appreciate is the easy set-up and portability of this bedside sleeper. One reviewer adds, "I also love that the sides are mesh. It gives me peace of mind with my moving little one at night!"
The RONBEI bedside sleeper will keep you assured that your little one is sleeping peacefully and safely all night. It's adjustable and can handle nine different lengths to fit your bed, and is great for parents who need to wake up at 3 a.m. for feedings. This model offers a lot of visibility. Probably because the company seems to know that parents often have trouble sleeping if they're overly worried about their newborn. Having them right by your side is a plus for multiple reasons. You can buy it in light or dark grey.
Now that you've got your bedside sleeper squared away, check out more baby gear you might need during year one and beyond.
This article was originally published on