The 9 Best Baby Bath Seats For Your Squirmy LO
We only recommend products we love and that we think you will, too. We may receive a portion of sales from products purchased from this article, which was written by our Commerce team.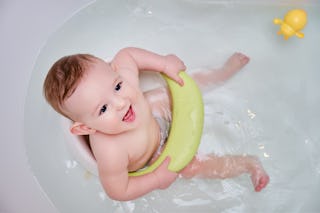 Shutterstock
Anyone who has ever tried to bathe a wiggly, squiggly baby knows that it can be a challenge. Bath water is flying, and when you add some squeezy bath toys to the mix, well, get ready to dodge streams of water coming right for your eye. Cleaning your LO can feel like a high-intensity workout. But thanks to the best baby bath seats on this list, bath time just got easier.
What To Consider When Shopping For The Best Baby Bath Seats
First things first, it's important to note that while bath seats can help your baby stay upright, you always need to be closely supervising your baby in one. In fact, the American Academy of Pediatrics (AAP) advises against bath seats because they can be a drowning hazard.
If you decide to use a bath seat, be prepared to monitor your baby as closely as you would without a seat. You'll also want to make sure that the bath seat you're using is a current model that's in line with the U.S. Consumer Product Safety Commission's (CPSC) infant bath seat safety standards, which require that there are suction cups on the bottom for grip and, if it's a model with leg openings, that they are appropriately sized to prevent baby from sliding out or getting stuck in the seat. To know that your bath seat meets these standards, look for the ASTM F1967-19 standard label.
With that in mind, it's time to find the best bath seat for your baby. Here you'll find everything from infant tub models that recline for smaller babies to bath seats that secure to the side of the tub for older babies that are more on the move.