Soothing Bubble Bath For Kids (That You'll Probably Want To Borrow)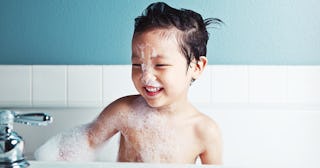 Getty Images/ Kativ
Nothing helps kids wind down after a long day like a bubble bath, but you may want to make sure that your kids' bubble bath is good for sensitive little kid skin! Now that many kids are back to in-person classes in some form or another, you probably want them to take extra care and give themselves a good scrub. Hand sanitizer's great for school, activities, and errands, but nothing beats a good long soak in the tub to wash away the day's dirt and grime.
For better or worse, most parents fall into two camps: the bath time whisperer or the bath time wrangler. There is no in between. Fortunately for you, a great bubble bath can help in both situations and be the gateway to jammies and a good night's sleep. A great-smelling tub full of bubbles and some choice toys will entice even the most stubborn naysayers and make bath time even more fun for everyone. Bubble bath has come a long way since our childhoods when there was only a small handful in grocery stores full of questionable chemicals and synthetic scents. When we know better, we force companies to do better, which is why there's a great selection of natural and organic body care products free of harmful chemicals and dyes.
Rub a dub dub, get some bubbles in the tub with these bubble bath products for kids!
Best Bubble Bath for Kids & Toddlers
This article was originally published on