11 Best Baby Bath Sponges To Gently Get Your Little One Squeaky Clean
by Jessica Booth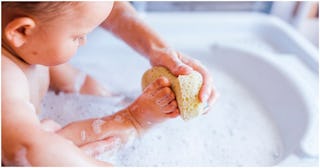 Getty Images / Westend61
The best baby sponges make cleaning Baby easy for you, fun for them! We get that giving your baby a bath can be an overwhelming experience. You're trying to keep them safe and steady when they're super slippery, and you're trying to get them clean at the same time. Having the right bath tools like a baby bathtub, fun bath toys, and kid-safe bubbe bath is definitely helpful, and that includes a baby bath sponge. It sounds like something small, but having one of the best baby bath sponges out there can help make the bathing experience easier and more pleasant for everyone.
How often should I sponge bathe my newborn?
For newborn babies, between one and three sponge baths a week are enough! Babies don't actually get too dirty (unless it's a big pee/poop situation of course). Allow yourself to take in the glorious newborn smell while you can, mama. A general rule of thumb is that babies should not be fully immersed in water until the umbilical cord falls off. So until then, feel free to keep it to a limited amount!
What is the best baby bath sponge?
When looking for the perfect baby bath sponge, find something that is soft enough for the sensitive skin of a newborn, but will also cleanse their skin quickly. Ideally, you should opt for something hypoallergenic that won't collect mold or mildew quickly, and something that can be cleaned very easily is always a plus. Some baby bath sponges are so cute that they can double as bath toys, which is great to have as your little one gets older and starts splashing around. You should also make sure the sponge is easy to grab and hold onto, even while you're also holding a wiggling infant. And if you haven't heard of it before, let us introduce you to the baby bath sponge mat that cradles little ones while they're chillin' in the tub.
Below is a collection of some of the best baby sponges out there, from sponge mats, to all-natural sponges, to mitts, and more.
Best Baby Bath Sponges
Newborn Bath Sponges
Best Baby Bath Mitts
Best Baby Bath Sponge Mats
This article was originally published on