Your Baby's Sensitive Skin Will Loooove These 15 All-Natural Massage Oils
We only recommend products we love and that we think you will, too. We may receive a portion of sales from products purchased from this article, which was written by our Commerce team.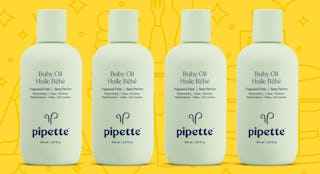 Babies (like most humans) loooove massages, so instinctually you'll want to find the best natural baby massage oils available. All that hands-on contact boosts oxytocin (the feel-good hormone), improves circulation, encourages relaxation, and promotes good sleep. The best baby oils should do two simple things: 1. Be safe for actual babies, 2. Absorb nicely into their delicate skin. Which is why we've scoured the web for the most natural baby massage oils that really deliver on both fronts.
Shopping for safe baby floor seats, foldable cribs, and safe baby shampoo is difficult enough. Looking for baby oil for your infant shouldn't be stressful, but there are so many pretty (and pricey) products out there, it can feel a bit daunting. When it comes down to it, you want to look for a plant-based option, like shea butter or calendula oil, and steer clear of things like petroleum-derived mineral oil (which is actually considered a possible immune system toxicant or allergen by the National Library of Medicine—yikes!).
Is Baby Oil Safe for Babies?
It is with the right ingredients! Anything used consistently on a baby's skin should be clean, especially when it comes to baby oil. Remember, baby oil isn't used as a moisturizer but as a massage oil because it's difficult for newborn skin to absorb. So how can you tell if a product is truly clean? There's an app for that. The Environmental Working Group (EWG) offers a rating system for thousands of cosmetics, skincare, and cleaning products we use every day. To make it easier for you (um, you're busy!) we've already researched each of the products below to find their rating on EWG's Skin Deep Cosmetics Database, so you can trust that these formulas are tried, tested, and deemed safe for your precious little one. All of our selects fall within the level 1-2 category, which are considered "low hazard" based on the available scientific research for the ingredients included. We're also highlighting a couple of products that are EWG verified, which means they are 100% free of toxic ingredients and meet the highest standards of health.
So rest easy, mama, and scroll through our picks below.
Best Natural Baby Massage Oils
And for your other BB needs, check out our baby gear round-ups right here.