The 6 Best Baby Monitors For Twins — So You Can See Double
Double trouble? Not with these monitors.
by Lauren Beach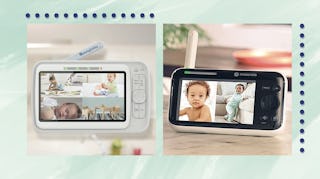 We may receive a portion of sales if you purchase a product through a link in this article.
Moms of twins know buying baby gear isn't just a matter of grabbing two of everything. Like other baby gear specifically designed to handle two little bundles of joy, like tandem nursing pillows, twin cribs, and double bottle warmers, the best baby monitors for twins let you keep a close eye on both babies with ease from a single screen.
What To Look For In The Best Baby Monitors For Twins
While trying to keep on eye on two babies at once might sound complicated, monitors today are actually well-equipped to handle twins. You can choose from models with a simultaneous split-screen, or if you want a full-screen view, there are models with an alternating mode that toggles between screens at a chosen interval (and you'll appreciate the automation when your hands are full). Some models offer both options.
Most monitor models have a range of about 1,000 feet and many include nice-to-have features like lullabies, two-way intercom mode, temperature monitoring, and cameras that are wall mountable in addition to being able to be placed on a dresser or shelf. Here's what else you should keep in mind:
Screen: A larger screen of 5 to 7 inches makes it easier to see both of your babies at the same time — but keep in mind it comes at the expense of the parent unit fitting in a pocket. Those screens tend to come in either 1080p or 720p resolution for a high-definition screen or 420p for standard definition; a higher resolution will provide a more crisp image.
Wi-Fi vs. Wi-Fi-Free: The majority of baby monitors remain Wi-Fi-free, and they're usually easier to set up, as there's no app to download or pair with your home network. Many parents consider them to be more secure as well because they are not connected to the internet. If your internet is prone to going down regularly, you may want to consider a baby monitor that doesn't use Wi-Fi. That said, there are some advantages to a Wi-Fi-enabled monitor: You can check on your baby from anywhere (date night, work, etc.), and it also allows you to carry one less thing around the house with video streaming right to your phone.
Battery Life: This is more important for Wi-Fi-free models, as most rely on having a parent unit to view your babies (a few include a parent unit as well.) Battery life for the monitors featured here can be as short as six hours in screen-on mode (meaning you'll need to plug it in overnight), although it can be up to 19 hours, depending on the model. Models featuring audio-only, ECO, and VOX (voice-activated) modes extend battery life to long enough to last through the night and beyond — with one model lasting a whopping 20 days on a single charge. Using your smartphone to check on the twins will of course drain your phone's battery, so keep that in mind, too.
Scroll down to find the best baby monitors for twins that are highly rated by users and have all the must-have features you need to keep an eye on your darling duo.
In a hurry? Here are the top picks for the best baby monitors for twins:
1. The Overall Top Pick: bonoch Baby Monitor
2. The Runner-Up: Babysense Video Baby Monitor