The Best UV Protection Baby Swimsuits Are So Cute, Your Womb Will Shake
by Bryce Gruber Hermon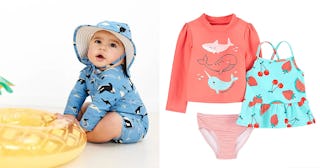 Boden / Amazon
If the idea of ultra-cute baby swimsuits sparks enough joy in your soul that you can Marie Kondo everything else in your life, you're not alone. Picking the best baby bathing suits goes far beyond on-trend patterns and bonus ruffles, though. Sleeves or no sleeves, ruffles or no ruffles, baby shark or chic stripes?! It'll make your head spin with the number of options you have online and in stores.
RELATED: 9 Best Infant & Toddler Pool Floats With Built-In Sun Canopy For Chillin' By The Water
What is the best swimwear for babies?
Even though adorable baby boy and baby girl swimwear will melt your heart faster than the sun melts your ice cream cone, according to The Mayo Clinic, the best (and most important) aspect baby swimwear can have is UV sun protection. You've got to protect those little arms with sleeves, faces with sunscreen, and heads with sunhats. Top dermatologists, like Dr. Doris Day, suggest using UPF 50 or greater swimwear on infants, spending time in the shade, and then opting for one of the best reef-safe sunscreens for kids after they reach six months old.
What does a 6-month-old wear swimming?
RELATED: The Best Wetsuits For Your Little Surfer-In-Training
Standard baby swimsuits work great for 6-month-olds, but just make sure that they're wearing swim diapers or swim nappies in case any accidents happen in the kiddie pool. Similar to other youngsters, (2 month-olds, 1-year-olds, etc.) sun protection should be a priority when it comes to swimwear for 6-month-old babies.
***
If you're wondering where to start your search, you aren't alone Mama. It can be pretty overwhelming shopping for babies and wanting to find the safest and the cutest thing possible. Luckily, there are tons of great baby swimsuit options with built-in UV protection! We've rounded up the most adorably protective UV baby swimsuits and a few of our favorites for when they're ready to use kid-safe sunscreen. Check out our top picks and have some safe fun in the sun!
Best Baby Swimsuits
Best UV Swimsuits For Babies
Baby Boy Swimwear
Baby Girl Swimwear
Do these super cute bathing suits have you ready to hit the water? You'll love our other mom-approved baby gear picks for making life with your little one even sweeter!
This article was originally published on