The 7 Best Bassinets For Small Spaces — So You Have Room Too
Bye space-hogging baby gear.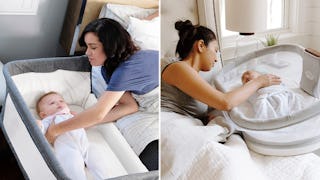 Amazon
We may receive a portion of sales if you purchase a product through a link in this article.
Those first few months with your newborn baby are pure bliss. Plus a little something called sleep deprivation and raging hormones — which basically equals utter exhaustion. The right gear can make life a whole lot easier — think baby monitors and bottle warmers — but perhaps most important is the right place to sleep. The best bassinets for small spaces offer many of the same features as full-size models — just with smaller footprints. Finding the right sleep solution for your setup will ensure that you get some shut-eye, too. Seriously, leave the dishes and piles of baby laundry for later, and catch those Zzz's when you can.
What To Consider When Shopping For The Best Bassinets For Small Spaces
Not all bassinets are created equal, so here are a few helpful things to consider while you shop:
Max Weight Limit: A more compact bassinet is great at saving space, but know that it might not grow with baby quite as well as some other options like, say, a mini-crib designed to be a more permanent part of baby's room. As you compare bassinets, consider the maximum weight limit to get a sense of how long you'll be able to use the sleeper. For your convenience, that weight spec is included for each pick below, although know that all bassinets should be retired once baby is rolling over on their own to ensure the safest sleep.
Compatibility A bassinet that slides right up to a bed — often called a co-sleeper — will allow for easy access during night feeds, but you'll want to make sure the model is compatible with your bed height. Look for models with multiple points of adjustment for the best fit.
Bonus Features: Some bassinets come with helpful features like rocking or swiveling, music, or a fold-down design for storage when not in use. Almost all bassinets come with an included mattress but some will also include a fitted sheet or a carrying case for portability.
With that in mind, it's time to find the best bassinet for your space — so that everyone gets a good night's sleep and you still have room to move during daytime hours.
In a hurry? Here are the top picks for the best bassinets for small spaces.
1. The Best Co-Sleeper Bassinet: Mika Micky Bedside Bassinet
2. The Best Rocking Bassinet: ANGEL BLISS 3 in 1 Rocking Bassinet
3. The Most Splurge-Worthy Bassinet: Halo BassiNest Swivel Sleeper