These Multitasking Mini Cribs Are Perfect For Small Spaces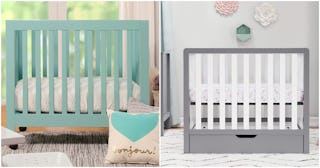 Amazon
Mini cribs are a baby gear must-have for any small nursery. They're also ideal if your baby bunks with you and squeezing past a regular-sized crib on your middle-of-the-night bathroom run isn't really your thing. Even better, many models are super multitaskers because they're portable and store-able — some even have wheels and/or can be folded up and stashed in a compact space. You can even find convertible mini cribs that grow with your child through their toddler years. And did we mention that these small cribs are also big on style? In fact, there are so many cute options, you're guaranteed to find one that matches your LO's nursery decor.
What is the difference between a mini crib and a regular crib?
Specifically, a standard crib comes in at around 28 inches by 52 inches and the average mini crib is 24 inches by 38 inches (Math isn't our strong suit, but like, that's a decent space saver.) Just FYI, when it comes to buying a crib mattress and crib sheets, you'll want to make sure you get mini-sized ones that'll fit.
Are mini cribs worth it?
Mini cribs are a great way to get lots of bang for your buck, especially if you lack square footage. Many can double as a bassinet, which makes for an easier transition when it's time to move the baby from your room to the nursery. Some have wheels and can double as a compact playpen or portable crib, and some can be folded for easy storage at places like daycare or a grandparents' house. Lots of mini cribs can even be converted into a toddler bed when the time comes, or a headboard and footboard for a twin bed. Pro tip: If you do plan on buying a convertible mini crib, you might want to consider purchasing the conversion kit at the same time just in case the crib model is discontinued (it's been known to happen).
Babies and toddlers can be wild sleepers — sometimes they sleep sideways, sometimes they're upside down, and sometimes their butt is in the air and their legs are practically in another room. So, another mini crib perk is preparing your baby for a toddler bed by learning to sleep in one direction — mainly because they just don't have enough room to get all willy nilly in there.
***
Needless to say, there are plenty of reasons a mini crib might suit your lifestyle, so take a look at our list of the most stylish, practical, and highly-reviewed mini cribs available online.
Best Mini Cribs With Wheels
Best Convertible Mini Cribs
Small Baby Cribs That Multitask
This article was originally published on