The 12 Best Nursery Hampers — Because There Will Be Laundry (So Much Laundry)
A cute nursery staple you'll use constantly.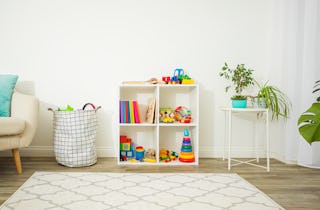 Shutterstock
We may receive a portion of sales if you purchase a product through a link in this article.
When designing a nursery, it's easy to get carried away in choosing the perfect color scheme, furniture, and cute accessories. So much so that practical details like where all of those dirty baby clothes are going to go gets forgotten. And babies generate an absurd amount of laundry, so you definitely need something that will make the job a little easier — or at least keep it out of eye's sight until you get around to laundry day. The best nursery hampers on this list are designed to do just that, and more.
Do Babies Need Separate Hampers?
If you're contemplating putting your baby's dirty laundry in with yours: don't. Baby clothing gets soiled with everything from poo to drool to baby food. Pureed peas next to your favorite fall sweater? No thanks. And if you're planning on using a different laundry detergent for baby than you do with your other loads, having all of baby's dirty clothes in one place means less sorting on laundry day.
What To Look For In A Baby Hamper?
While there are tons of cute nursery hampers that will fit nearly any nursery theme, looks aren't everything when it comes to laundry baskets. Durability, material, and weight are all important factors to consider when purchasing the right nursery hamper for your space. For messy baby items, the hamper will ideally be wipeable or have some sort of machine-washable component. And if the laundry room isn't nearby or even on the same floor, don't overlook just how helpful handles (or removable bags) will be when lugging the hamper to the washer — especially if you're carrying your baby in the other arm.
Where Is The Best Place To Put A Hamper?
You'll want the nursery hamper to be easily accessible — whether that's by your changing station or hanging on the back of a door. And these days hampers come in all shapes and sizes. There's even one on this list that fits neatly into a corner.
Ready to choose the best nursery hamper? Scroll down to see the top Amazon picks.