The 8 Best Night Lights For Toddlers — So Everyone Has A Better Night's Sleep
We only recommend products we love and that we think you will, too. We may receive a portion of sales from products purchased from this article, which was written by our Commerce team.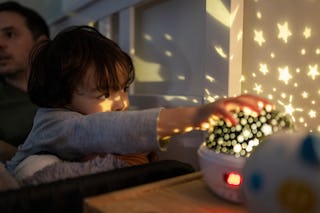 SolStock/E+/Getty Images
A lot of parents struggle with keeping kids in their own beds, especially during the toddler years when LOs just want the comfort of you. Shedding a little light on the situation (literally) is sometimes all it takes to make their room (or their room at grandma's house) a safe sleep haven, helping them to once again look forward to bedtime and catch some much-needed zzz's. But we also know that too much light can have the opposite effect, so we've come up with this list of the best night lights for toddlers that will create the perfect slumber setting.
Because our bodies require darkness to produce melatonin — also known as the sleep hormone — avoiding bright lights before bed, and throughout the night, is crucial for a restful sleep routine; this "sleep hormone" is activated by the absence of light, and being exposed to too much light at night can actually block the production of melatonin, making it hard to fall and stay asleep. And blue light is the worst offender when it comes to disrupting your natural sleep cycle. For night lights, look for ones that emit a soft, warm glow — and while it might seem odd, red light is actually the best light for not affecting your body's all important circadian rhythm.
Rest assured that the practical and unique night lights on this list feature soft lighting ideal for striking the perfect balance between what the body needs and what the imaginative mind of toddlers requires.