These Crib Soothers And Sound Machines Get BB (And You) To REM. Do Nothing But Press ON.
by Michelle Sparks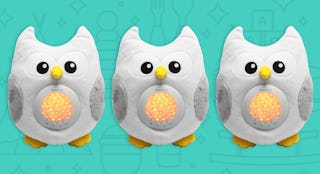 Crib soothers, which are sound machines that help your little one sleep, are invaluable for tired parents. "I wish I got less sleep," said no mom ever. In the early months (or, more likely, years) of parenthood, our overnight hours are spent wearily trying to shush your baby back to sleep so you can steal a few minutes of shut-eye. Sleep regression is real, so if your little one is nearing the 18-21-month mark, you might be noticing Baby is having a more difficult time sleeping through the night. We'll try any and all tips and tricks or use baby swings to get our babies to sleep soundly through the night with the hope of getting at least one solid hour of sleep. Not to mention wrangling our little ones between the endless kicking, screaming, and crying (otherwise known as bedtime), getting them into bed and settled down is another feat in itself.
RELATED: Easy Wall Art Ideas For An Instagram-Worthy Nursery
But fear not, bloodshot-eyed, over-caffeinated parents—there's an answer to your sleep-deprived prayers (fingers crossed). With the right baby sound machines and crib soothers, these handy little gadgets will do the shush-ing (and singing, and white light-projecting) for you. From the best-selling Hatch Baby Rest sound machine to travel-friendly options for car seats or portable cribs, we rounded up the 12 best crib soothers out there so you—and your baby—can finally get some zzz's.
Best Sound Machines
Best Sound Machines + Projectors
Best Portable Sound Machines
Now that BB is asleep, finally, check out our other mom-friendly baby gear.
This article was originally published on