The 8 Best Rugs For Babies To Crawl On — Plus A Cult-Fave Crawling Toy To Get Them Moving
Soft and stylish rugs to protect those little hands and knees.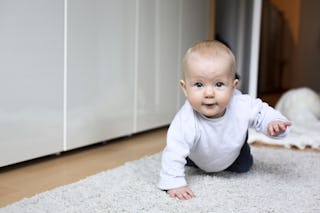 imageBROKER/Shutterstock
We may receive a portion of sales if you purchase a product through a link in this article.
While every child is different, most babies begin crawling between the ages of 6 and 10 months. And you can bet that after all that tummy time, when the time comes for them to start moving, they'll be excited to explore their environment on their own. But since they'll be doing this on their hands and knees, you might want to consider one of these best rugs for babies to crawl on that are designed to provide a safe surface for your newly mobile kiddo.
What To Consider When Shopping For Rugs For Babies To Crawl On?
Material
No matter what, you'll want a soft floor covering that won't be a hindrance to movement. Here's what you need to know about the different materials available for crawling rugs:
Cotton: A natural material that's breathable and generally washable, cotton is a great option for a crawl mat. The downside is that it won't be the plushest for when baby decides to take a face plant (although a rug pad pairing can solve this issue!). Cotton rugs are also very lightweight for moving around the house.
Wool: Another natural material, wool is soft, breathable, and insulating (great if you have cold floors underneath). But, wool rugs are typically more expensive, may be prone to shedding, and they're not washable so you'll have to commit to spot cleaning.
Acrylic/Nylon: A manmade material like acrylic or nylon will be budget-friendly and durable, although this type of rug will not be made with natural fibers like cotton or wool, if avoiding synthetics is a priority to you.
Foam Play Mats: Soft, fairly portable, and easy to wipe clean, foam mats can be a great option for babies to cruise on — and ones that pass E.U safety standards will guarantee the safest possible play surface.
Since your LO will be spending a lot of time on the rug or mat, you'll also want to look for options free from BPA, lead, phthalates, flame retardants, other harmful substances.
Style
Traditional nursery rugs will offer sweet prints and textures that might go with your baby's room theme but they aren't the only way to go. Choosing an area rug greatly opens up style options so that it also blends in with your home's style. Think everything from cozy cable knit rugs in neutral hues to Moroccan-inspired weaves.
With all this in mind, it's time to shop for the best rugs for babies to crawl on. We scoured Amazon for the best of the best. From low-pile rugs with adorable patterns like clouds and forest animals to modern, minimalist area rugs that will look great in any room of your home, ahead you'll find the eight best rugs for babies to crawl on.