The 15 Best Toys That Encourage Crawling, According To A Pediatrician
We only recommend products we love and that we think you will, too. We may receive a portion of sales from products purchased from this article, which was written by our Commerce team.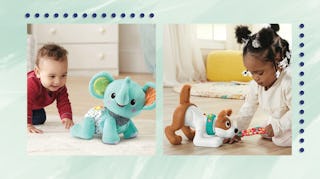 Scary Mommy / Amazon
Crawling is a milestone in any baby's life that's exciting (yay, they're moving on their own!) and also slightly worrisome (oh no, they're moving on their own). But because some babies need a little nudge to get moving, there are many toys that not only help motivate them but also help them learn and develop fine motor skills as well. The best toys that encourage crawling are engaging enough to get babies to move toward the toy — think sounds, lights, movement — and eventually chase after it.
Scary Mommy reached out to pediatrician Dr. Mona Amin, DO, FAAP, and the early childhood development experts at the Fisher-Price Play Lab to learn more about babies starting to crawl and what parents can do to help encourage them.
The Experts
Dr. Mona Amin is a board-certified general pediatrician with an interest in child development and neonatal medicine. She shares educational information on child health and wellness on PedsDoc Talk, as well as on Instagram, her podcast, and YouTube channel. She currently works at Pediatric Associates in Florida. She is also a mother to a toddler herself.
Lisa Lohiser is an early childhood development expert at the Fisher-Price Play Lab, which helps design toys that are tested by babies and kids.
How Can I Encourage My Baby To Start Crawling?
"Give them lots of floor time!" says Dr. Amin, adding that floor and tummy time help with rolling, crawling, and even walking. "Put them on their back, on their side, on their belly, and see what they can do. Start in small increments of time and build up as they get used to it. Utilize rattles, toys they can manipulate and put into their mouth, and toys they can transfer from hand to hand. You can put toys they are interested in slightly out of reach to help encourage crawling."
She also says to look at what items they already love, whether that's you calling their name, a toy, or even a remote control, to encourage movement. "If you notice them constantly trying to grab for something in their environment, put that a distance away from them and let them try to trouble-shoot how to get to their desired item by moving a.k.a crawling," she says.
Lohiser says to give your baby a crawling buddy to show them how it's done — you (or an older sibling) can get down on all fours and crawl along with them, which will be a great incentive (and model) for them to get moving.
What Is The Normal Age For A Child To Start Crawling?
Children may crawl anywhere from 4 months to 13 months, but every child is different. Dr. Amin says the goal is not for your child to reach a milestone compared to another child, but to help foster their own individual trajectory.
How will you know if your child is ready? Lohiser says to look for these signs:
Your baby is lifting or propping themselves up using their arms.
They're lifting themselves up on both arms & knees.
They're doing mini pushups during tummy time.
They're rocking forward & back on all fours.
Shop The Best Toys That Encourage Crawling
Ahead find more than a dozen toys that will encourage your baby to make a move. Before you know it, they're going to be cruising, and then walking, and then running. (Pro tip: install the baby gate, outlet covers, and furniture anchors now.)
In a hurry? Here are the top picks for the best toys for crawling:
1. The Expert Pick: Yookidoo Musical Crawl N' Go Snail Toy
2. A Versatile, Budget-Friendly Toy: Sassy Developmental Bumpy Ball
3. This Cult-Favorite Crawl Ball: VTech Wiggle and Crawl Ball