The 21 Best Toddler Chairs For Keeping Your Kids Comfy— And In Their Own Zone
We only recommend products we love and that we think you will, too. We may receive a portion of sales from products purchased from this article, which was written by our Commerce team.
by Rachel Aschenbrand-Robinson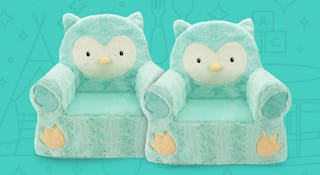 The perfect kids' or toddler chair offers plenty of benefits, including letting your kiddo snuggle up to read their favorite book. Aside from allowing you to reclaim your personal space or your spot on the couch, or both, a plush kids lounge chair keeps your little monkeys from climbing on the adult furniture, thus reducing the risk of arts and crafts stains, slime spots, footprints, and rips. Have we got your attention now? Right, we thought so.
RELATED: The 15 Best Foam Play Mats That Aren't So F***ing Ugly That You're Embarrassed to Let Your Friends Visit
Whether it's modeled after an adult accent chair or emblazoned with cartoon characters like Baby Shark or Vampirina, providing your little with his or her own toddler chair will give him or her a sense of value and ownership, and a spot of their own to get excited about that's not on your lap or generally all up in your grill.
There are a few things to consider when shopping for the right kids' chair: Is it lightweight enough that they can transport it to multiple rooms but sturdy enough not to tip over? Will the chair be a spot for watching TV, reading books, taking a nap, learning how to draw a rose (a.k.a. Mom's favorite flower; wouldn't that be sweet) — or all of the above? Do you want a stylish kids' chair that coordinates with your decor or something fuzzy adorned with their favorite Disney princesses or Disney characters that will actually motivate them to sit down for five seconds? From the ease of cleaning and assembly to durability to overall aesthetics, there are chairs to suit a variety of needs.
We talked to Erin Benedict, principal designer at Benedict August | interiors + design about how her team selects chairs for children, and she says they consider two things first: context and proportion. She determines where and how the chair will be used.
"For example, if the chair is used at a table, look for a chair where the child can sit upright comfortably," Benedict says. "If the chair is for the child's bedroom, we will look for something a little bigger and softer to create a cozy spot to lounge and read a book. Finally, if the chair is included in any common areas in the home, we love miniature versions of classics that coordinate with the home's aesthetics, like the Stevie Kids' Chair, to add some fun, pint-sized sophistication."
After hearing Benedict's professional input and scouring the internet, we found the best toddler chair options available now — ones that you and your kids will love. Check out what we found below.
Best Character Toddler Chairs for Kids
Designed for ages 3 through 6, this upholstered toddler chair is set perfectly low enough for your little to get in and out with ease. The frame is made of hardwood and the seat of this soft kids chair is wide and padded for little tushies, and the whole thing is easily cleaned by wiping with soap and water. This little seat also features storage pockets on either side for toddler valuables like crayons, coloring books, figurines, and who knows what else. We're partial to Frozen II but this comfy cartoon chair also comes in options featuring Peppa Pig, Minnie Mouse, and the trolls from the film franchise. No matter which characters your kids go nuts for, this pick offers a cozy spot for them to curl up and read, watch TV, or just chill out.
If your kid goes crazy for Mickey Mouse, this toddler chair is kind of a no-brainer. Recommended for ages three and up, it's padded and comfy, featuring a wood frame and holding up to 100lbs–no assembly required. Just the right size for teeny Disney fanatics, this soft kids chair is super easy for them to maneuver around.
Are your kids jazzed over the Avengers? Then, they'll love this incredibly cool Avengers chair. (But if they're not really into superheroes, don't worry — it comes in other characters, from Cars to Toy Story 4.) Weighing in at just over 3.5 pounds, this chair is easy to move from room to room. Created for kids who are in between the ages of three and eight, this chair is a great way for young children to feel special (and have their own space) during family movie night.
Best Character Loungers For Kids
Who said your toddler chair has to just be a chair? This fold-out foam chair for kids ages 18 months and up is actually more like a toddler sofa bed, adorned with their favorite characters from Paw Patrol. It's lightweight and cushy, and transforms easily into a true kids lounge chair — the flip-out seat extends from 16 inches deep to 39 inches, so little ones can sprawl out. Perfect for naptime! A removable slipcover means it's easy to wash, too. With nearly 300 positive reviews, it's safe to say this Amazon best-seller is a hit with both kids and parents.
Made for the entire fam-bam to enjoy, this foam Disney Princess chair is designed to be hella comfy. Come snack time, your little munchkins will be flocking to "the chair" for a much-deserved treat. It's also the perfect spot for lounging with a book or taking an afternoon snooze. We love that this chair provides durable back support and stability—after hours of sitting, you won't have to worry about them complaining about a broken back. Parents will love the fact that it's easy to unbox. This cute sofa can support up to 100 pounds.
Best Classic Chairs For Kids And Toddlers
When kids have their own grown-up style chairs, they feel valued and leave more seating available for you —double win! This toddler chair from Delsit comes in a few varieties, from a unicorn print to one called "the ballerina bunny." Made in Europe, this chair was constructed with polyester and cotton, and has an iron frame. The armrests are built to be extra-wide, giving kids a more secure place to sit and relax. They can also turn it into a tiny sofa to take naps on.
Moving on up, we see! At last, the kids can experience what it's like to have a big kid chair of their own. Set this stain-resistant microsuede fabric chair (recommended for two to five-year-olds) in the living room beside your recliner for family movie night or place it in the nursery/playroom. Either way, it's bound to get 24/7 use. It's padded with high-density foam and has real wooden legs. If you want to coordinate it with the feng shui of your space, then you'll be happy to know that it comes in a slew of colors including lavender, navy, black, and kiwi.
This is a plush foam chair kids and parents will love. Meant for minis ages 18 months and up, this faux fur lounger is lightweight and features a removable chair cover that's machine washable, as well as a child-safe zipper closure. In addition to the adorable grey elephant, you can also find this style of chair in unicorn, and even Curious George.
For something a little different, try a saucer chair. It's perfect for cuddling up and reading a book or watching a movie from a tablet. Several different colors are available, and every one would look stellar in a bedroom. Bonus: It already comes preassembled.
While all children's chairs are cute in their own way, this Amazon Basics recliner is simply adorable. If your kids want to watch the big game with their parents, this is just the chair for them. Made from faux leather, this recliner is available in three colors and can hold up to 90 pounds. Perfect for children over the age of three, parents have stated that it's fairly simple to assemble and very easy to clean.
Want a chair that your child won't grow out of as they get older? Then, this Cozee — which is aptly named —may be just the ticket. Available in five soft colors, the cover of this seat is machine-washable, meaning that you don't have to worry about if and when your child spills something by accident. Capable of supporting up to 100 pounds, this selection from Delta is sure to make any child's room shine.
Leave it to Melissa & Doug to create a fun, functional, high-quality toddler chair. The OGs of kids toys created this comfy armchair as an option for kiddos ages three and up that won't fall apart or clash with your decor. Blue denim is the ideal mix of casual, comfy, and durable, but this sturdy seat (it holds up to 100 lbs) also comes in luxe-looking brown faux leather and a very princessy pink faux leather that features a tiara-inspired back. Reviewers rave about its quality, style, and minimal assembly, as well as how easy it is to clean — need we say more?
Best Kids Sofas
The Costzon Toddler Sofa Chair is too adorable to pass up. And with other designs (including crocodile, mermaid, lion, elephant, and spaceman), you're sure to find one that your kiddo will love. These chairs are comfortable, sturdy, and easy to clean. Made out of wood, it can easily hold up to 110 pounds.
Know what's better than a chair? A couch. You can really sprawl out on a couch, and get cozy while reading a book. Children's couches are just as special, especially this couch from Keet. Available in six different colors, this couch is ideal for kids between the ages of 18 months and five years. It can hold 75 pounds and might become your child's new favorite place to spend time. "What a great design in kid-sized form... Fits in well in my living room. Shallow enough that the dog doesn't take it over," claimed one Amazon reviewer. "We got the denim color to hide juice spills, but so far it cleans nicely.
Looking for a kids' couch that you can put in the living room or sunroom? This Qaba 2-seater will add a touch of class to any room. Available in gray, pink, and blue, this attractive sofa can safely hold up to 99 pounds and is recommended for kids up to the age of six. Reviewers claim that it's sturdy, with some even assembling the couch without its legs to help better support younger children.
Best Bean Bag Chairs for Toddlers and Kids
Beanbag chairs are actually pretty adorable when they're small. When it comes to beans, Big Joe is the company to trust. Chairs come in different materials, with one thing in common — there's plenty of attention to fine detail. That could be why well over 7,000 parents have given this chair a five-star rating. Even teachers are fans, with one stating on Amazon that they "love that they don't take up a lot of space and they're lightweight so they're easy to move around."
Not only is it a unicorn bean bag cover, but it's a unicorn bean bag cover that also functions as toy storage. Genius. The stuffed animal storage organizers is really big — 24"(L) x 24"(W) x 19 1/2"(H) —which can fit around 90 stuffed animals. The cover's velvet texture is soft and also made with a thick, durable fabric that can weather active kids. Note: This is the cover only, so if you do need filler, you'll have to buy it separately (we're sure your kiddo has enough stuffies to pad it, though).
This bean bag chair cover is extra long, making it ideal for kids and adults for ultimate lounging time. Plus, its cute and trendy design isn't too "childish" so it can easily blend in with the rest of your home decor. The bean bag chair also functions as toy storage and can hold about 195 small plush toys or 110 medium stuffed animals. Bonus? It's super easy to wash. Just toss it in the washer — you won't need to worry about color fading or shrinking. Note: This is sold only as a cover.
It's hard not to love the ULTIMATE SACK Bean Bag Chair. For one, it comes in well over 20 colors, meaning that it'll look great in any child's bedroom. Secondly, it comes in different sizes, making it truly customizable. It comes pre-filled with memory foam, and can be a great place to lounge, read, or even do homework. Parents, you'll love the fact that the cover for this chair is machine washable, meaning it can always look fresh.
Best Baby Chairs
Looking for a good chair for a baby? This Skip Hop activity chair is an excellent start. Created for infants up to 25 pounds, this is a type of chair that can help them plau and explore. With several spinning friends to keep them occupied, they'll learn how to properly sit up. Even better, it's okay if it gets messy — the chair cover is washable.
Sure, style might not be the most important thing you think of when you ponder good places for your baby to sit and eat. But, this chair has style. The Summer Infant Pop 'n Sit SE Booster Chair might make mealtime a little easier, especially since it's so versatile. With the ability to be used both inside and out, this would make a fantastic baby shower gift. With a 3-point safety harness and chair straps, your baby will be safe, secure, and yes — stylish.
Found the perfect toddler chair for your peanut? Shop more toddler toys they can play with while getting cozy!