This Nanny Watches Billionaires' Kids & Makes Up To $167 An Hour
Two months of nannying could cover her yearly income.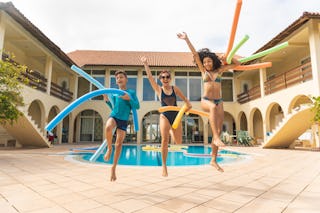 MesquitaFMS/E+/Getty Images
According to Care.com, the average rate per hour for a nanny, nationwide, is $17.35 per hour. This rate obviously varies based on location, kid amount, experience level, etc., but a baseline hourly wage for a nanny is a little under $18.
If a standard nanny works 40 hours a week, they're making around $36,000 a year. In this economy, with inflation prices going seemingly nowhere but up, this salary won't get you very far. This is why some people are opting for a different approach when it comes to making a career of being a nanny: work for billionaires.
One part-time nanny, Gloria Richards, travels with billionaires' kids all over the world.
When she's not working on off-Broadway and one-woman shows in New York City and Virginia, Richards, 34, spends half of each year nannying for the uber-wealthy. She told CNBC Make It that nannying for billionaires tends to earn her upwards of $167 per hour. This includes flights and accommodations. If she works half the year at 40 hours a week, she's easily cashing in a six-figure salary in mere months.
"I could nanny for, like, two months at the top of the year, and I'd be fine for the rest of the year," Richards said. "What feeds me is being able to work so closely with these kids."
She also explained that a large portion of her job is not exclusively caring for these billionaires' kids. Instead, she's acting like their personal assistant, coordinating their school work and social calendars.
She gets paid up to $2,000 per day for 12 to 15 hours of work, she said, traveling the world by private jets and yachts, driving Porsches and Teslas provided by her employer, and attending toddlers' birthdays where iPads are party favors.
Richards confessed that while the job pays a hefty salary, it comes at an emotional cost. She often find herself as the sole companion for neurodivergent children with "absent and complicated parents."
She also adds that, as a Black woman, typically working with wealthy white kids, she has to navigate "cultural situations tactfully," or she could lose her job.
Though Richards never divulged to CNBC who exactly she nannied for (possibly due to confidentiality agreements and NDAs), she did reveal that she's worked with the kids of famous actors. Some of whom she never even meets.
"One of them was so constantly surrounded by security guards and makeup artists that she only caught glimpses of the top of the client's head over the course of her three-month employment," the outlet reported.
Richards said she will work with roughly 10 wealthy families at a time, and she's not wiping up spills, preparing meals or opening car doors. There's other hired staff for all that.
Richards is a "social coordinator" and, as the outlet puts it, an emotionally supportive mother figure. Once, parents actually listed their child in an Italian boarding school under her last name, she says.
"I've had full-blown interviews where [parents] are like, 'We're looking for someone to raise our kids,'" she says. "They tell me they had kids to pass on their trust funds, [and that] 'I'll hang out with them after boarding school when they can drink.'"
She got her start as a high-end nanny while living in New York City. Over ten years ago, she worked in the childcare department of a Reebok Sports Club, which is now known as Equinox gym. Some of the members were affluent families who started asking her to babysit for them.
She ended up linking with a New York-based household staffing firm who sung her praises to rich families looking to hire. "Her willingness to travel and passion for working with neurodivergent children made her an alluring candidate," Madison Agency director of operations, Jackie Mann told CNBC.
The staffing agency also protects her from families who neglect her agreed upon hours or neglect her pay periods.
For now, Richards will keep up her part time, six-figure nannying job. "The money, thrill of travel and opportunities to help even difficult children are enough to keep Richards around," she said.
"I have to be very mindful that even though it's an intimate setting, it's still a job," Richards says.