A Mom's Viral TikTok Starts Birthday Party Debate: Should You Invite Your Kid's Entire Class?
The comments section revealed a surprising trend among parents.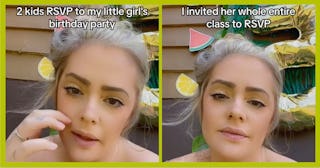 @saddiegau/TikTok
Kids' birthday parties have long been a hotly contested issue. When did they get so over the top? Why can't they be more low-key like old-school parties? Can parents drop their kids off and bail? What kind of present should you get some random child in your kid's class? With so many unanswered questions and possible etiquette faux pas, some parents find it easier to skip birthday parties altogether. But as one mom recently shared on TikTok, that raises another pressing birthday question: Should you invite your kid's entire class to their birthday party?
"Two kids RSVP'd to my little girl's birthday party," shared Sadie Gau on TikTok. "I invited her whole entire class. Two RSVP'ed. It's in two hours. I started panicking, and I started inviting all my Facebook friends with kids ... I said, 'Just show up. We have enough stuff for like 25 kids.' I don't know what to do."
If you've ever been the mom of the kid or the kid who didn't have anyone show up at their birthday party, you know how truly awful that feels. The heartbreak in Gau's voice is no doubt relatable to most moms — her little girl will be crushed when her birthday bash goes unattended.
But not everyone is on board with Gau's approach, as evidenced by many parents' comments on the video.
"I never prioritize inviting school friends. If you don't know those parents well, they're probably not coming," writes Anna.
"If you don't have a relationship with these kids' parents, they won't come. People who come are the ones you've had playdates with," says another commenter.
"We need to look at our child's classmates the same as we do for most of our coworkers... they're their classmates, not their friends outside," suggests Michelle Cook.
"I've been a mom for 22 years. I have 3 kids and never once have I invited friends from school... family and our friends only to avoid this," admits Dbl. B.
So, should we stop inviting classmates to kids' parties?
On the surface, the anti-classmates comments make sense. In larger schools, you may not know the parents or even all of the kids. Partying together can be awkward and sometimes stressful when parents don't know each other.
Another detractor pointed out the cost of attending parties: Not everyone can afford presents. If you're already on a tight budget, buying a gift for anyone — especially a kid you don't know — doesn't make sense.
Many comments also suggested having a family-only party to avoid this situation. (It's worth pointing out here, though, that not everyone has a large or close family.)
If your kids' classmates are their only or most significant source of socialization, invite them. But have a game plan:
Have the party at a public place.
Parks, bowling alleys, and fast food restaurants with play places are all places where parents might feel safer bringing their kids or "just dropping by" than coming to a stranger's (or near stranger's) home.
Be clear about presents.
If your kid already has enough toys, tell parents not to worry about gifts. "Your presence is the only gift Harriet needs." If they want something expensive that you don't want to splurge for, consider having a "Fiver" party where you ask everyone to bring a $5 bill so little Braxton can buy that crazy expensive LEGO set for himself. If you have a reader, you could ask attendees to share their favorite book, "Brand new or well-loved, it's all good! Matilda wants to share your favorite book with you."
Give everyone plenty of warning.
Set your RSVP for at least two weeks to avoid last-minute stress. If you don't get many responses, activate that class phone tree. Send a text to confirm with unresponsive parents that they aren't planning to come. It doesn't need to be aggressive or guilt-ridden. Just a simple, "Hey! We're planning our pizza order, so I want to double-check. Is Riley coming to Grace's party?"
Have a backup option.
If only two kids or no kids RSVP to the party, that doesn't mean it can't still be a blast. If you're only feeding three kids instead of 25 and know that two weeks out, you have plenty of time to plan to go bigger with the kids who do show up. Use that extra food and goodie bag budget to rent a bouncy house or buy a smaller trampoline. Or text the parents who RSVP'd and be honest. Invite siblings. Ask if you can change it up and take the three families to the movies, an indoor play area, or a destination that would have been too expensive if you were attempting to entertain an entire class.
Maybe forgo a party entirely.
Everything cycles. Right now, birthday parties seem not to be "on trend." Opting for a fun adventure, an outing with the family, or a unique one-on-one with the birthday kid might be a better idea — at least until birthday parties are cool again.