This "Boomer Dad" Comforting His Divorcing Daughter Is The Sweetest Thing You'll See Today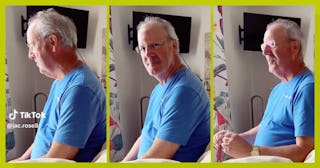 TikTok / @jac.rose8
Boomer parents kind of get a bad rap when it comes to their ability to be emotionally available. One could argue that a boomer parent's inability to really express emotion or empathy comes from their own childhood trauma that they never worked through — because older generations have more trouble talking about trauma and because therapy is still super taboo to them.
Even still, that doesn't mean they don't love their children, and some boomer parents try in their own way to be there for their grown kids when they're hurting. One TikTok user shared the sweetest moment she shared with her boomer dad while she was going through a difficult time.
Occupational Therapist and TikTok creator Jacqueline (@jac.rose8) posted a video of her dad comforting her the best way he knew how while she laid in bed after learning that her husband wanted a divorce.
"My husband just said he's divorcing me and my dad came over and I was non-functional in bed," she wrote in text overlay on the video.
"...so boomer dad didn't know what to do, so he played his favorite song, the Dua Lipa 'Rocket Man' remix 😂"
As she records him, he explains what he "sees" as the song plays.
"I can see, like, four singers in the background while he's there by himself," he says while dancing, most likely referring to "Rocket Man" originator, Sir Elton John.
"He's just jamming out?" Jacquline asks her dad.
"Yeah, moving around a little bit!" he responded, as he continues to dance in the most adorable dad way ever.
TikTok users commented on the simple, heartwarming moment, noting how sweet her dad is even if he didn't quite know what to say or what to do.
"That's so sweet though, not pressuring you to talk he just want to be with you," one user wrote.
Another echoed, "That's a good dad. It's okay that we don't always have the words."
The OP responded, "Exactly! He didn't know what to say but he was there and helped me in such a sweet way. He's the best 🥰"
'"I am CRYING. This is so precious, he is trying his hardest to be there for you in any capacity. How pure ❤️," another user wrote.
One TikTok user commented, "Doing what his job is as your dad, protecting his most prized possession in the way he can. Just his presence. Know your safe in him."
One user commented that, as a parent, they know the emotions this dad is going through.
"Parenting... you're never happier than your saddest child. ❤️," they commented. So true.