The 20 Best Gifts For Couples Who Already Have Everything
by Megan McCarty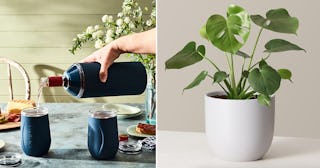 Food52/The Sill
In theory, buying a shared gift for couples sounds like a two birds, one stone situation, right? Knocking out one gift for two people lets you get through your shopping list a little faster. But in practice, it can be way easier said than done. How do you find a gift that both of them will like, that they don't already own, and is within your budget?
If we were you, we'd simply scroll down to our 20 favorite gifts for all kinds of couples — from the foodies to the competitive types to the cozy-up-on-the-couch duos. Whether you're buying a gift for an engagement, a new house, a holiday, or just because, we included gifts at various price points that are good for both their home and their relationship. You know us, just saving relationships left and right…
So go ahead, read on for the best gifts for couples — and no, we won't judge if you end up buying these items for yourself instead.
Best Gifts For Couples
Gifts For Couples Who Have Everything