5 Things I Wish I'd Known When Creating A Baby Registry
by Kari Zizzo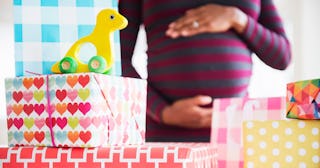 JGI/Jamie Grill/Getty
You're pregnant! Congratulations! This is one of the most exciting times in your life, and you cannot wait to start preparing for Baby's arrival. You know that babies need stuff — like a lot of it. So you go to the store, thinking you're going to get your handy dandy scanner, make your selections, and boy is it going to be fun!
Except you soon discover that there are rows and rows of gadgets and things you never even knew existed (and frankly, can't even tell what they're for), and now you're seriously starting to wonder if this was all a big mistake.
Rest assured, it was not. You just need a little guidance. Here is what I wish I had known when I was creating my baby registry:
1. Don't limit your registry to newborn sizes.
Those newborn clothes are so itty-bitty and cute, and when you hold up those tiny little clothes, you want to die with happiness just thinking about your soon-to-be bundle of joy. I get it. You're going to have a newborn soon, so naturally, you're going to need newborn sized clothes, right? Not necessarily. Most newborn sizes fit babies up to 7 lbs. My son was born 8 lbs. 2 oz., so he never fit into newborn sized anything. I'm 5'4", and my husband is 5'10", and we are totally average sized. We were not expecting our baby to be giant, yet there he was, Baby Shaq. So all of those cute wittle teeny weenie newborn-sized pajamas got washed in Dreft, hung in the closet during my nesting period, and then stayed there until we moved out of our apartment when our son was six years old. He was still too big for them then.
2. Do register for a lot of one piece pajamas with zippers.
Picture this. It's 3:00 am, and you are stumbling, bleary eyed into your baby's room. You gently pick him up, lay him on the changing table, and successfully change his diaper without getting peed on (yes, mothers-to-be of boys, this is a real thing, and it happens all of the time. Be forewarned.). Do you know what you don't want to be doing right now when you can't see straight, and all the world is asleep but you? You don't want to be lining up a thousand freaking snaps and snapping them, ever so slowly, one by one, up the size of your baby's sleeper. You want to zip that thing up, and be done with it. After all, you're going to be back in there another 3 times before the sun rises. Make life a little easier for yourself at least. Get one piece pajamas with zippers.
3. Don't worry about needing an expensive crib.
Picking out your baby's nursery furniture is exciting. When you imagine bringing Baby home, you envision holding her, gazing down at her lovingly, in the middle of her gorgeously adorned nursery. When we were expecting our son, we thought it made a whole lot of sense to buy top-quality furniture that would grow with him. So we went to a very famous furniture store, and we ordered a beautiful crib that not only converted to a toddler bed, but also converted further to a full-sized bed frame. Genius, we thought! This set is going to stay with him until he's off to college, and judging from how long kids live with their parents nowadays, he might use this set well into his late 20s!
Well, what we didn't anticipate is that our son would morph into a tiny beaver and chew the whole rail up one night before we were able to put a rail cover on it. And then when our son had outgrown the toddler configuration, we realized the mattress of the full bed would be a full three feet off the ground, meaning that even if he managed to climb onto it unassisted, we would be spending the rest of our nights worrying about him rolling out of the darn thing. But that was all moot because, guess what? The bed had been discontinued, and they didn't even sell the full bed conversion kit any longer. So now that beautiful, high-end crib set is in our garage, gathering dust, because it was so flipping expensive that I can't bring myself to get rid of it.
4. Register for more than one brand of diapers.
Holy moly, diapers are expensive. In fact, when you do the math, you might be horrified to find that you can easily spend up to $550, just on diapers, in the first year. ONE year of diapers! $550! So you do what any reasonable person does, and you register for diapers. You've even done your homework, and you've found the perfect organic diaper that aligns with your core values. Better yet, the designs are beautiful, with lovely muted colors. So you put that brand of diapers on your registry. But here's something that not everyone will tell you. Some brands of diapers are going to fit better than others on your baby. And after the sixth or seventh "all the way up the back blowout" (you will soon know what this means), you won't care if it's made from recycled jello and looks like a trash bag. You're just going to want something to contain the Poopmageddon. And what you really won't want is forty more boxes of diapers that don't fit your baby.
5. Make sure to register for a snot sucker.
You aren't going to want to hear this, but I'm going to tell you anyway. There will come a day when your baby is so miserable, when he can't sleep because he can't breathe, when there's so much bodily fluid coming out of your baby's nose that actual bubbles are forming. On this day, you will decide that it's worth it to you to take a contraption, put it up to his nostril, take a deep breath, and suck the snot right out of your infant's nose. That little bubble syringe thing they give you at the hospital is not going to do a thing for your poor baby, and even worse, it gets all moldy on the inside (so do those toy bath squirters, FYI). So the best option, no matter how gross it sounds, is to have a snot sucker at the ready.
At the end of the day, you are going to receive a lot of things for your baby. Some of them are going to be absolute lifesavers, and others will be more useless than a graphing calculator when you're 30. Hopefully this list will make your life just a little bit easier.
This article was originally published on