Grown Daughters Sob Uncontrollably While Watching Their Parents' Wedding Video
"Now, they have to deal with anxious, disabled kids, oh my god!"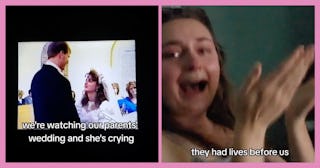 @kaceyeet1 / TikTok
No one prepares you for that one jarring moment when you suddenly realize that your mom and dad are actual people with their own feelings, problems, pasts, and views. Or that you might not be the only thing that's ever happened to them.
For most of our young lives, parents are just these older people who cook us meals and pay for stuff and tell us what to do. We love them, of course. They're essential to our well-being, but we don't really understand that long before we came along, they were just young people with so many hopes and dreams.
Then... they had kids.
One grown daughter's epiphany that her parents are actually real people was caught on film when her sister recorded her emotional reaction as the two watched their parents' wedding video.
The moment is emotional and sweet but also gives laughs as she verbally works through this concept that her parents "had lives" before she and her sister came into the world.
"We're watching our parents' wedding video, and she's crying," one sister says while panning from an adorable clip from the vintage wedding video to her sister on the couch sobbing.
"They were so beautiful. And they were so young and youthful and in love," the crying sister says through sobs. "...and then we happened, and we ruined them!"
The girls continue to cry and laugh simultaneously as the emotional sister continues to talk through her realization that her parents are people.
"Now, they have to deal with anxious, disabled kids, oh my god!" she yells while wiping tears away. "They had lives before us!"
The sentience of realizing that parents were kids once as well just hits different.
After the video went viral, gaining 2.6 million views and over 300k likes, TikTok users were begging for a "parent reveal."
In another follow-up, the girls record their parents, 28 years later, asking them to say hi to all their new TikTok fans and to talk a little bit about their marriage and their life.
"Our marriage is great. 28 years," their mom says.
"Is it better because of us?" one daughter asks.
"Absolutely," she replies as the girls "aww" in response.
"I wouldn't change it for the world," their dad says. "I love being a girl dad."
As for the now-TikTok famous mom and dad's one tip for a happy, long-lasting marriage, they say communication is key.