The Mom Friend We All Want
20 Drew Barrymore Motherhood Quotes That'll Make You Feel Seen
Being a mom is tough — she gets it.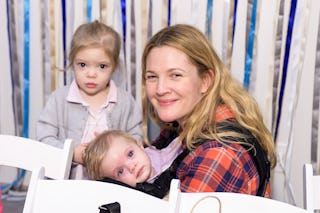 Stefanie Keenan/Getty Images Entertainment/Getty Images
For many of us, Drew Barrymore feels a bit like a sister. Whether she's a little older or a little younger than you, she's been in the business — and thus in our lives — for just about all of it. Think about it: Her breakout role was as little sister Gertie in 1982's E.T. the Extraterrestrial. That's *pulls off shoes* 40 years ago. Since then, she's continued to live a rather public life and been open and honest about her struggles growing up in the limelight. The world has been with her from E.T. to Boys On The Side to 50 First Dates. You've eaten her up on Santa Clarita Diet and love the chance to tune into her new afternoon space, The Drew Barrymore Show. She's gorgeous and friendly and oh-so-honest and real.
So, a decade ago, when she first became a mom, it was just as exciting as a friend getting pregnant. Our sister was embarking on another wild journey. The best part of Drew's entrance into motherhood? Her continuing efforts to be transparent about the triumphs and struggles of raising children... especially two little girls. Parenthood isn't always easy, and our upbeat gal hasn't shied away from being forthcoming about that. Her quotes on motherhood, below, are wonderfully relatable.
"Everything in my life has been a butterfly net of information, how to hold it, how to harness it and then use it to be my best parent."
"I've got love and humor, but we're all learning on the job. I don't want to be my kids' friend — I am their parent. I hope my experience growing up in an industry toxically riddled with vanity can help me be better with my kids."
"I count my lucky stars every day. It's amazing. I never take it for granted.".
"My favorite thing about being a mom is just what a better person it makes you on a daily basis. Every morning when I wake her up, the endgame is, Can I get her to smile? And that puts me in a good mood. It's definitely a different way to live — and a much better one."
"I know of all the relationships I've had — whether it was a boyfriend, a marriage, my own parents, my best friends who were my original family — no one has forced me to push myself to be a good person as much as my kids."
"It was like very church and state. It is the messiest plate I've ever held in my life to be the teacher, the parent, the disciplinarian, the caretaker."
"You know, as a parent, when you're not leaning in enough. The only advice I have for a mom to be present is when she is by herself. That's when they should be present!"
"I can't wait until I have my children. I love the idea that they don't have to do something that they have no interest in, that they can do something completely opposite if they want to. I will be so surprised if they don't want to do something involving food or wine or art, but I'll be OK with it. I just want to build fun, great things for my family."
"I love the person who said, 'Parenting is like wearing your heart on the outside of your body.' It's the most beautiful, perfect analogy. I have anxieties about how much I'd like to get it right, making sure I provide her with an environment that's safe, nurturing and loving. And silly and free, also consistent and grounding."
"Wherever life takes you, if you're lucky enough to be alongside people you love, then to me, that became the definition of home. I never knew what home was until I had my daughters."
"You have the highest highs, and yet you're facing the biggest fear of, 'How do I keep someone alive?'"
"It's so amazing — after your kid is crying for 12 hours, you'll start laughing and you love them even more. But the next day, the stupidest thing will throw you. Everything surprises you constantly."
"I thought it would be a little more romantic and cozy, and instead, I was just terrified."
"I didn't have parents; I was the parent to them. It was all totally upside-down. So I didn't know what I was doing. When people would talk to me about parenting I felt like an outcast. It took years for me to pluck up the courage to say, 'Can you speak to me as someone who is desperately trying to learn? Can you teach me?'"
"I was so under-slept, I couldn't eat, I was nervous all the time. So, I wasn't really prepared for that. I felt alone on that, so if there's other moms out there that felt like that in the beginning, you are not alone, I felt like that too. For any mom who felt casual and capable, you are a superhero! I wish I could have been like you."
"I cannot remember life before kids. It seems like a dream."
"People are like, 'How do you balance?' I'm like, 'I don't.' I have to pick stuff. I have to stop doing stuff. I have to cut stuff out of my life. I always get in trouble for saying you can't do it all, but it's not that you can't have it all. I just don't think I can personally do it all at the same time."
"I was so unforgiving of myself when my kids were younger, and now that they're almost 9 and Olive's like 10, it's shifted into something very different. And I'm having the best time ever. I've learned boundaries."
"I am unbreakably in love with them and will be every single day for the rest of my life, no matter how nuts they drive me."
"I think motherhood is just so humbling. You realize how ill-prepared we all are, how little we know. But this love is so beyond any love you've ever known that it just kicks in and, all of a sudden, you start scrambling for all the answers and to get in touch with your gut instinct."