First Baby Walker Shoes For Toddlers Learning To Walk With Comfort
We only recommend products we love and that we think you will, too. We may receive a portion of sales from products purchased from this article, which was written by our Commerce team.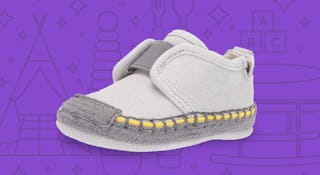 It's hard to resist putting a pair of shoes and slippers on tiny baby feet. Those chubby baby toes look so darn cute you can't help but want to dress them up! According to the American Academy of Pediatrics, socks are all little ones need at first. You'll know it's time to upgrade to real shoes when they're cruising around confidently in their baby walker. Once they start to put weight on their legs and feet, crawl, or try to stand, pre-walker shoes with soft but sturdy soles will give them the support they need.
RELATED: The Best Snow Boots For Toddlers, Because Winter Is Coming
By the time your baby finally starts taking those Instagram-worthy first steps (usually between 9 and 18 months), a pair of lightweight, flexible, rubber sole shoes — aka walker shoes — will do wonders to help them move safely and more confidently. And even though babies' feet grow so fast that most shoes don't last more than a few months, they've got to fit.
Dr. Ashley Lee of the Northern Illinois Foot & Ankle Specialists advises not to buy a size bigger (like you can with boots for the big kids) so they can grow into them because all that extra room will affect the fit, which can have an impact on their ability to stand, walk, and play with ease. As the previous Chief of Podiatric Surgery at Northwest Community Hospital and current Mama of two boys, she knows first hand what works and what doesn't when it comes to baby walker shoes.
"Having a shoe that is too small or ill-fitting can lead to various deformities later in life, including hammertoes and bunions," Dr. Lee said. "If a shoe is too tight or too loose, it can cause falls or make running [or walking] difficult."
When should babies start wearing shoes?
Babies don't need shoes until they actually begin to walk. Essentially, as soon as they're off all fours, you want to ensure that they are protected from anything that could hurt or infect them. Although they're ready for baby walking shoes, Dr. Lee notes that barefoot is best when indoors. She also says, "children's feet can grow an average of 9-10 sizes from birth to 3 years old, so make sure to check their shoe fit every 1-2 months."
Whether your baby is just learning to stand or they're already off and running, here's a peek at 8 of the best baby walker shoes that moms love.
RELATED: 11 Ridiculously Cozy, Fuzzy Slippers— Our Favorite WFH Shoes
Best Baby Walking Shoes
First Walking Shoes for Baby Girl
Baby Walking Shoes With Ankle Support
For more great stuff for your little mover, check out some of our most recommended baby gear.
This article was originally published on