The Best Birthday Dresses For Your Baby Girl's First Year Around The Sun
by Keri Pina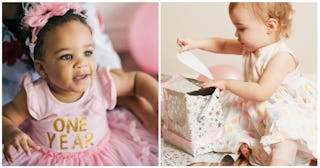 Getty Images
A first birthday dress for your baby girl is a big decision. After all, she is the guest of honor. Everyone will want a selfie with her, and those pictures are sure to be included in photo-dumps for years to come. And let's be real, this is likely the only birthday party where your daughter won't have an opinion on what she's wearing, so you can have as much fun with it as you want.
RELATED: 12 Best Gifts For 1-Year-Olds, According To Experts
First birthdays feel high pressure because, well, they're the first. But in reality, your baby has no idea what's going on. Planning the party can be as easy or as stressful as you want it to be. You stress-shop for the perfect gift (we have plenty of stuffed animals and non-creepy dolls for you to check out), and your daughter will play with the wrapping paper. You can agonize over what cake to serve, but most of her slice doesn't make it into her mouth. (You should probably have plenty of bibs on hand.)
When it comes to picking the best first birthday dress, pick something you like, and something she'll be (mostly) comfortable in. (And depending what time of day you plan the party, you might consider putting her in something she can comfortably —and safely — nap in for a mid-party break.) And if you need activity ideas to keep your LO and her squad entertained, we have plenty of face painting kits, water play activities, and bubble machines to tire those kids out.
Whether she's walking or crawling while she's making the rounds, here are the best first birthday dresses for your little diva.
Best First Birthday Dresses
First Birthday Dress for Baby Girl