Watch This Great-Grandpa Help His Grandkid Learn To Walk
The toddler's mom thought the two would never even meet.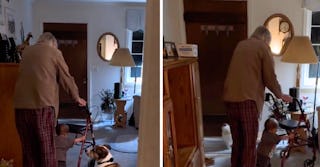 TikTok / @breedukz
In some of the most wholesome content you'll see today, a great-grandpa is going viral on TikTok after helping his one-year-old great-granddaughter learn how to walk.
In the heartwarming TikTok video, great-grandpa Jeri, 88, strolls with his great-granddaughter, Ocean, as she holds onto Jeri's walker as the two navigate their way around a living room.
"Your grandpa didn't think he would live long enough to meet his great-granddaughter but he helped her learn to walk," Jeri's granddaughter Briana, 24, wrote in text on the video.
The precious moment has since gone viral, garnering 2.9 million views and over 700k likes.
"It was a very emotional moment that made my heart so full," Brianna told Newsweek. "Their bond is very special. Ocean loves to go on walks with him and steal his newspaper."
She also shared that when Ocean took her first steps, Jeri was thrilled for his great-granddaughter. "She took her first steps on Christmas morning and he was ecstatic. He was so surprised at how fast she grew up!" she said.
TikTok users were also thrilled to see the duo go for a stroll with over 2,000 people commenting on the adorable moment. "The age where they both need a walker," one user wrote.
"The most precious thing I've seen in a long while—what a beautiful memory to have documented," said another person.
Another user wrote, "My daughter is a year and a half and still has her great great grandfather and it is so sweet to see how much they love each other."
Research proves that having present grandparents in a child's life is mutually beneficial. A 2019 University of Oxford study found that grandparents play a high-level role in the emotional and behavioral development of their grandchildren.
When children have a present grandparent, they are likely to have fewer emotional problems and less likely to be involved in negative behavioral situations.
For grandparents, having the responsibility of caring for a child can also help them live longer. One study found grandparents who provided periodic babysitting had a 37% chance of living longer over a 20-year time span compared to their non-caregiving counterparts.