27 Fun And Spooky Halloween Party Games That Are AHHH-Mazing
by Team Scary Mommy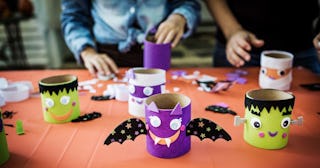 Cavan Images/Getty Images
If you're planning on hosting a Halloween party for the kiddos this year, it's always a good idea to have a few more tricks than treats up your sleeve. (And for that matter, a few good ghost jokes and pumpkin puns will come in clutch with the kiddos!) After all, as parents, we all know that the best magic we can conjure is the art of distraction. And, well, DIY Halloween party games are a great way to keep your little monsters entertained that — bonus — don't require a sugar high.
Another perk of keeping your kiddos entertained with games? It means you get a break too, Mombie. Halloween isn't just a holiday for children! You can (and should) host a Halloween party where both kids and adults can have fun. Which is why we rounded up these scary games perfect for a Halloween party — and sure to thrill all your mini party-goers to the bone.
RELATED: The Elevator Game — What To Know And Why You Shouldn't Play
Fun and Festive Halloween Party Games
Toilet Paper Mummy: Get a few rolls of toilet paper and wrap your kiddos up like mummies. Added challenge: a relay race dressed as a mummy!
Halloween Scavenger Hunt: Hide a variety of Halloween items around the house (i.e. pumpkins, a witch's broom, a picture of a mummy). Whoever finds them all first wins… more candy.
Halloween Feel Inside Box: Place some slimy and gross foods in a few boxes, and pass them around to your kids to feel what's inside without peeking.
Pumpkin Bowling: Either use real bowling pins or stack toilet paper and use a pumpkin as your bowling ball.
Pop a Pumpkin: Arrange orange-colored balloons in the shape of a pumpkin and have kids aim to pop the balloons with a kid-friendly dart.
Feel for the Eyeball: Prepare a bowl of cooked spaghetti and have kids search for the missing "eyeball" (i.e. a grape) while blindfolded with their fingers.
Halloween Piñata: Buy or DIY a Halloween-themed piñata. If you don't want to give your kids even more candy, maybe fill it with small trinkets or stationary.
Pumpkin Twister: Similar to the traditional game of Twister except switch colorful circles for printable paper pumpkins
Bob for Apples: An oldie but a classic! Place an apple or several in a bucket, and fill it with water. Each kid takes a turn trying to grab the apple out with just their mouth.
Halloween Bingo: Swap out a traditional Bingo card with one that includes classic Halloween symbols.
Pop the Pumpkins: While this isn't the most peaceful game, kids will love stomping on orange balloons that are standing in for "pumpkins."
Count the Candy Corn: Fill a large jar or bowl with candy corn and have the kids guess how many candy corns are inside. The winner gets to keep all the candy corn!
Ghost Races: Decorate potato sacks with ghost faces (or any Halloween character) and hold a potato sack race with spooky spirit.
Spooky Face Painting: Kids love having their faces painted, and Halloween is the best day to do it. Note: Ensure the paint used is non-toxic.
Decorate Your Own Pumpkin: You can use large or small pumpkins for this activity. No knife or scissors are required — just be sure to stock up on paint, markers, and stickers, and other fun things to decorate with.
Pumpkin Ring Toss: First, you'll need to buy or DIY some rings. Then, throw the rings at a range of pumpkins like you would do at a traditional ring toss.
Witch Hat Ring Toss: While we're on the ring toss idea, why not toss those rings over a pointy witch's hat and reward the kiddos with more candy? Relax, dentists; it's Halloween!
Bobbing for Eyeballs: Think of this game as bobbing for apples, Halloween edition. A bag of eyeballs from Target or your local pop-up Halloween shop and a large punch bowl full of water will do. How do you like them eyeballs?
Pin the Tail on that Monster: Like pin the tail on the donkey but spookier.
Halloween Cornhole: Seriously, what could be cuter (or more on-theme) than tossing tiny faux-spiders at a web? This DIY version of the popular toss game will thrill kids and adults alike.
Pumpkin Cauldron Toss: All you need for this game are some mini-cauldrons (any craft store should have them around Halloween) and a bag of candy pumpkins. You then set up the cauldrons and see who can toss their tiny pumpkins with the most accuracy.
Skeleton Scavenger Hunt: This is a scavenger hunt with a spooky twist! Using pieces of plastic skeletons from The Dollar Store or a craft store, hide "bones" all over the house. Split kids up into teams. The first team to find all their bones and reassemble the skeleton wins.
This article was originally published on