I Had No Idea Armpits Could Stink At Age 9
My dump-truck-loving baby is suddenly a tween and WHEW.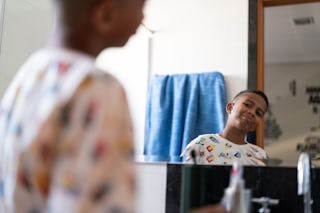 FG Trade/E+/Getty Images
It was after football practice on a random Tuesday night when I noticed. My nine-year-old son had removed all his equipment and headed upstairs to change. And right as he leaned in to hug me — his warm, sweaty armpit on my shoulder — I got a whiff. And despite my complete disbelief, there was no denying what I knew to be true: My nine-year-old had real, mature body odor. And holy crap, I was not ready.
The first step was to address the issue in a non-shaming, educational conversation about the increased importance of showering and taking care of your body as it grows and matures. I also immediately took to Amazon to power-order deodorant. I also googled "male puberty" and called his doctor. I spent a commercial break of a Patriots game burrowed in his armpit searching for hair (with his consent, of course).
But overall, beyond the frantic logistics, the fact that my little dump-truck-loving, baby-toothed toe-head firstborn is somehow now a tween — complete with his own opinions, style, and sweat glands — feels like it has catapulted me into a whole new era of parenting, and I am trying hard to work through it.
It has felt impossible to avoid feelings of sadness as I chatted with him about hygiene and self-care. Something that I was in charge of for so long — changing his diapers, shampooing his hair, and scrubbing his feet — is now his responsibility. And the post-practice aroma that now wafts into rooms with him if he skips a shower is so obviously anti-kid and so clearly more young-adult. Of course, he is still only nine. But I know that before I know it, he will be eighteen. And the passing of time from stinky diapers to stinky pits went far too fast for my heart to handle.
I am worried about all of the high-stakes, mature issues that will likely come next. How will I know when I should be having next-step conversations about erections, masturbation, and sex? I know some will say that's my husband's job, and others will say he will figure it out on his own, but I am a control freak and an over-communicator with my kids, and I kinda want it to stay that way.
I want to normalize the topics that were pretty taboo in my house growing up. I want my house to be filled with honest and open conversations about complex and ugly life stuff. But despite the onset of body odor, nine seems to me to be early for all that. But again, how will I know? How do I make sure I don't handle this next chapter of his life incorrectly and mess everything up?
I think I will lean into the wise words of my therapist and focus on controlling only what I am able. I think the fact that I am worried is enough, for now. No, I am not ready, but I am going to get prepared and gather my resources. I will remind myself that I never actually have any answers. I can stay informed and in tune, and I trust the parenting instincts that have led me through the last incredible nine years reasonably unscathed. And while I am sure the road through puberty will be a bit bumpy for both of us, as long as we stay talking and connected, we will hopefully make it out on the other side.
In the short term, I will stock up on Axe body spray, provide gentle shower reminders, and make sure clothes are laundered on a regular basis.
Samm is an ex-lawyer and mom of four who swears a lot. Find her on Instagram @sammbdavidson.