24 Popular Indian Baby Boy Names Rooted In Tradition And Culture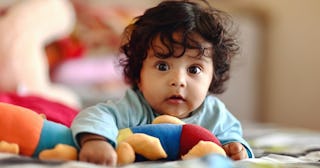 Rajesh Rajput/Unsplash
If you're looking for inspiration in your search for baby names, check out our list of the top baby names for boys, girls, as well as unisex options. Perhaps you're on the search for short one-syllable names for girls and boys, or maybe nicknames as first names for your little Ace — we got those too.
So, you want to honor your Indian heritage when naming your son. First, let's take a moment to discuss the size of India. It's giant! The country of India is the seventh largest country in the world in terms of land mass. Among all the other countries, it also ranks as the most populated democracy and second most populated country as a whole. In other words: India is gigantic and, as such, plays host to a variety of religions and cultures. That sort of rich history and culture also means you have a lot of choice when it comes to naming your little tot while still incorporating a popular or traditional Indian name in your growing family.
RELATED: 20 Lovely And Meaningful Indian Names For Your Sweet Baby Girl
Ahead, we pulled together just some of our favorites as well as their meanings so you can browse and see what strikes your fancy.
On the surface, Adriel means "beaver" which doesn't exactly seem like a compliment. However, it's important to remember that beavers are revered for their hard work and seen as a symbol of skillfulness. If you want to instill those values in your baby boy, Adriel might be a great choice.
If your babe is the bright light after a dark time in your life or you're looking to name a rainbow baby, Arjun is an excellent choice to usher in "bright and shining" times.
A more religious family might enjoy using Devansh, which simply means "part of God."
Looking for a strong name for your babe? How about "unshakeable" Dhruva.
Another great option for your blessing of a baby. Haroon means "hope."
Another spiritual option is Ishan, which is another name for Vishnu and can be translated to "Lord" and "sun."
This simple, sweet name has two meanings and we love them both. First, Jai can mean "bird" and can be used as a way to give tribute to your love for nature and animals. Of course, Jai also means "victory" which is a pretty great meaning to attach to your child right off the bat.
Love the ocean or sky? "Blue" might be an excellent way to honor those loves.
9. Neev
Often times when you think of naming your kiddo, you find yourself saying something along the lines of "I just want to start him off with a strong foundation." Neev means exactly that, so why not start there?
This sacred syllable might be just the peaceful, simple name you're looking for.
Literally meaning, "Never misses a target," Parth comes with quite a bit of hope… and pressure. If you plan to raise an overachiever, this name will set him up for greatness.
Your baby is just a prince right now, but one day he'll rule the world. How about naming him "King?"
You know how babies are often called "little rays of sunshine?" Rishi literally means, "Ray of light." It's also the name for sage, a sacred herb.
If you want something a little tougher and more "boyish," Tejas is a cool choice. The name means, "Sharp."
Sometimes you just know while he's still in the womb that your little boy is going to be so smart and studious. With a meaning like "Sacred knowledge," you're practically sealing the deal.
Do you remember exactly how and when your precious babe-on-the-way came to be? If it happened when you first woke up or if he's born bright and early, maybe pay tribute with Vihaan, which means "morning."
This one holds a ton of weight, but is oh so perfect for that little boy you've waited so long to meet and that overwhelming happiness you feel when he arrives.
Similar to Viraj's "splendor," Yash means "victory" or "glory." And, Mama, who doesn't feel pretty victorious when they finally push their child out into the world?
19. Aditya
This popular name means "descendant Of Aditi" and sometimes translated as "belonging to Aditi." It is another name for the Hindu god Surya.
Who doesn't love a name with the mysticism and pull of a celestial body? This traditionally male name definitely has that — it means "moon."
In Hindi, this name means "sacred syllable (om)," or "praise and salutation." So, if you're looking for a name that is at once strong and spiritual, this might be the right pick for your little boy.
In 2019, this Arabic-originating name was one of the top baby names in India. In fact, over 150 million men and boys worldwide share this name, which means "praiseworthy." Perhaps one of the most notable examples of it is iconic boxer Muhammad Ali.
Author Ahmed Hoosen Deedat and Nobel prizewinner Ahmed Hassan Zewait are two famous examples of this super-popular boy name in India. Or, if you prefer to draw your inspiration from further back in history, you may be interested to know that Ahmed I was the sultan of the Ottoman Empire from 1603 until he died in 1617. So you can call this name, which means "greatly praised," a classic choice.
There's no doubt your baby boy will have your whole heart for you whole life. So, why not give him a name that nods to that? Hritik literally means "from the heart."
This article was originally published on