Kid Music Is Stupid. Play Your Kids What You Listen To.
It's a chance to reveal to them the joys of the wider world, to let them begin to form their own taste — and to get to know you a little better.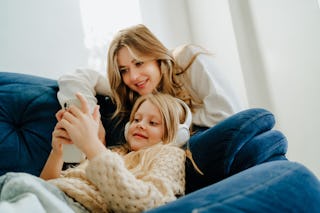 Tatiana Meteleva/Getty Images
It started in the parking lot of our favorite bakery, where my 5-year-old son and I like to chat in the car while my husband goes in to get pastries. Music was on the car stereo, our usual weirdo mixture of '70s dad rock, '80s punk, '90s and early aughts indie classics, vintage rap, and a hodgepodge of other one-off highlights. (Nothing contemporary, obviously, because we're in our 40s.) My son, then 3, seemed listless, spaced out. It was peak COVID, and life was dull as hell. Going to this bakery was the day's big jaunt.
It always cheers him up if I ask his opinion. So, I said, "Hey, is this song a thumbs up or a thumbs down, you think?" It was "Green Onions" by Booker T & the MGs. He listened, thinking, then lifted his hand: thumbs up. (The correct answer.) I kept asking. I don't recall the next few tracks, but they were all thumbs-downers. Turns out he has highly specific taste.
I've learned more about those tastes in the years since — and so has my son. Because you can't really know what you're into, what your particular loves and loathes are, unless you're exposed to a buffet of possibilities. And I'm of the opinion that when it comes to children and music, none of those possibilities need to include kid's songs... especially not during such a formative time when you're uniquely primed to soak up and enjoy and be changed by what you hear.
Don't get me wrong; my son sings "Down by the Bay" and "There's a Hole in the Bottom of the Sea" at school and home, too — and I joyfully sing along. But these are silly earworms, whereas the music his parents listen to seems to both electrify and move him. I remember that feeling. Many of my childhood memories involved discovering stuff my mom and dad liked: They were dispatches from a strange adult world. Tears for Fears and UB40, U2 and James Taylor. (Told you I was old.) What were they even singing about? Why did everyone want to rule the world? On long drives around my native Northern California — a redwood here, a rocky beach there — my dad would blast Led Zeppelin or Kansas or The Eagles while we kids went quiet, taking it in.
I want my kid to have the same frozen-in-amber musical memories, and we're well on our way. Even if it seems he's not listening while our playlist plays, he notices. Recently, he stunned us by declaring that we play Electric Light Orchestra's "Livin' Thing" too much. (Technically, it's Spotify that coughs it up all the time.) Presently, his favorite band is They Might Be Giants — not their kids' records, their grownup stuff. Other go-to faves include tracks by The Flaming Lips, Vampire Weekend, Tom Petty, and Blur. The first time he heard LCD Soundsystem's "Dance Yourself Clean," he said, "Mom, I don't like this song." I said, "What? Really?" And he said, "Yeah. I don't like it. I love it." I just don't think reaching that level of exhilaration, that full-body euphoria, would be possible while listening to Raffi.
Recently, my son and I had to drive an hour each way to a doctor's appointment, and we treated it like an adventurous road trip. The journey coincided with a near-obsessive resurgence of my yearslong love of The Clash. So, my son and I listened to most of London Calling as we drove, and each time a new song began, I noticed that he grew quiet. "This is really rockin'," he said halfway through "Clampdown," his highest endorsement. "My butt is dancing to it." (He was wiggling in his car seat.)
It felt deeply good for him to like what I liked, and it reminded me of something. The Christmas I was 16, I asked for a CD by The Clash that I didn't yet have, and my parents obliged. On Christmas morning, my mother mentioned that she'd once seen them live. She may as well have told me she once rode a bicycle to Venus. It had never occurred to me that we could both like this band, that she could once have been young and alive in the same way that teenage me was. Sharing the music you love with your kids doesn't just expose them to stuff they might love, too. It teaches them that in addition to being their parent, you're a person — and it's a small but meaningful way to let them know you just a little better.