55+ Easy Songs For Kids To Sing (With Or Without Your Help)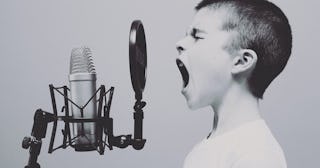 Jason Rosewell/Unsplash
Do you have a future American Idol contestant on your hands? Alright, it might be too early to tell if they're any good or if it means that much to them. But, even before they can form words we can often tell when our babies are "singing." Babies, toddlers, and kids (little and big) all love to sing. As they get older, of course, the scenarios change. By the time they're teenagers, they may not want to sing with you or in front of you anymore. While they're little, though, they still enjoy jammin' with their mamas.
RELATED: 9 Of The Best Pianos For Kids – Major Scale Impact for Minor Scale Pianists
So, here you are. Maybe it's the middle of the night and you just can't sing one more round of 'Twinkle, Twinkle.' Or, perhaps, you're on a road trip and looking for new songs to sing while stuck in the car. Whatever the reason, you're here because you need some fun new material. (Or at least a reminder of songs in your repertoire that need some dusting off.) Even if they can't (or won't) play piano, they most definitely sing. We've collected the ultimate list of songs to teach to and sing with your kids. We also added fun children's songs and lullabies in other languages like Spanish, French, and more. Ready to sing?
Classics
1. Old MacDonald
2. Take Me Out To The Ball Game
3. Are You Sleeping?
4. Baby Bumble Bee
5. BINGO
6. Baby Beluga
7. Apples & Bananas
8. Head, Shoulders, Knees And Toes
9. She'll Be Comin' Round The Mountain
10. I'm A Little Teapot
11. The Farmer In The Dell
12. The Wheels On The Bus
13. The Itsy Bitsy Spider
14. The Hokey Pokey
15. You Are My Sunshine
16. Say, Say My Playmate
17. The Muffin Man
18. The Ants Go Marching
19. This Land Is Your Land
20. Jesus Loves Me
21. Pat-a-Cake
22. ABC Song (and Twinkle, Twinkle)
23. YMCA
24. This Old Man
25. Five Little Monkeys
Sesame Street, Disney, and Beyond
26. Just Keep Swimming
27. The Monster In The Mirror (Wubba Wubba)
28. Rubber Ducky
29. Hakuna Matata
30. The Number Of The Day
31. I'm a Believer
32. Gaston
33. You're Welcome
34. Baby Mine
35. Bippity Boppity Boo
36. Bare Necessities
37. Sunny Days
38. When You Wish Upon A Star
39. Do You Wanna Build A Snowman?
40. Can't Stop The Feelin' – Anna Kendrick & Justin Timberlake
New Bops
41. Baby Shark
42. Happy – Pharrell Williams
43. Daniel Tiger, Clean up, Pick up
44. Fight Song – Rachel Platten
45. Brave – Sara Bareilles
46. Roar – Katy Perry
47. Finger Family Song
48. Radioactive – Imagine Dragons
Holiday Songs For Kids
49. Monster Mash
50. "Hanukkah Oh Hanukkah" Song for Kids
51. "12 Days of Christmas"
Songs With Movement
Several of the songs we listed above have hand gestures, movements or dances you can do to accompany them. We're old, though, and we don't always get it right. While gestures may vary depending on the generation, location and even ability, these videos are a great start for re-learning all those classic moves. Just a thought: Even when your littles are too small to comprehend mimicking you, doing the dances and hand gestures for them will still have benefits. Not only are they entertaining to watch, but sometimes you can mesmerize them enough to put them to sleep.
52. Skinnamarink
Sharon Lois and Bram were our jam as kids! We badly needed a refresher on these movements, though.
53. Itsy Bitsy Spider
Believe it or not, not everyone does the "out came the sun" gestures the same way. Is this how you remember?
54. Dinosaur Stomp
How many wild little munchkins are hanging in your home? This BIG, LOUD song with BIG, LOUD moves will be well-loved.
55. Where Is Thumbkin?
Did your Mamaw sing this old school hit to you? Do you remember how to do the finger dance for it?
56. Little Bunny Foo Foo
Here's another classic bop we completely forgot how to do.
Easy Songs in Other Languages
The Hello Song — Multilingual
Frère Jacques — French
Sol Solecito Caliéntame un Poquito — Spanish
Duermete Mi Niño — Spanish
Arrorró Mi Niño — Spanish
Estrellita ¿dónde estás? — Spanish
This article was originally published on