This Lash Serum Makes It Look Like I'm Wearing Extensions
We only recommend products we love and that we think you will, too. We may receive a portion of sales from products purchased from this article, which was written by our Commerce team.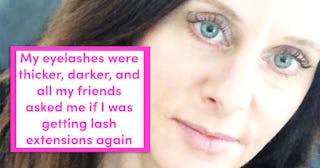 Courtesy of Katie Bingham-Smith
Last year, I realized I needed to get my hands on a good lash serum ASAFP. You see, I used to wear lash extensions. That is, until I realized I didn't want to keep up with the cost and maintenance of getting them filled all the time. After I let them fall off, I saw the damage that was done to my eyelashes and knew I needed some help. (A good mascara like this one is a must-have too.)
After reading the reviews (over 1,400 5-stars!) for the Luxros lash serum on Amazon (and loving that price point), I ordered it as fast as I could. My eyelashes were about half the length they were before getting the extensions but also, my bald lids reminded me my lashes were pretty much transparent.
After using this serum once a day for about two months (you have to give it at least that amount of time to start working), I couldn't believe the transformation. My eyelashes were thicker, darker, and all my friends asked me if I was getting lash extensions again.
"Nope!' I said as my lashes batted against my eyelashes. "It's just this awesome serum." They couldn't order it fast enough and they all love it just as much.
I'm still on the same tube I purchased last fall and my lashes keep getting better. In fact, I have many days I don't even need to wear mascara and I still feel a little done up.
It doesn't leave any marking on my lids like some of the other (way more expensive) serums I've tried. So, if you are looking to level up your lash game (it's great for your brows, too), I can't recommend this serum enough — my lashes are jacked.
This article was originally published on