Leighton Meester Wants To Make Minivans Cool Once And For All
The 'Gossip Girl' actor talked to Scary Mommy about her down-to-earth parenting, her summer adventures, and her mission to get food to hungry kids.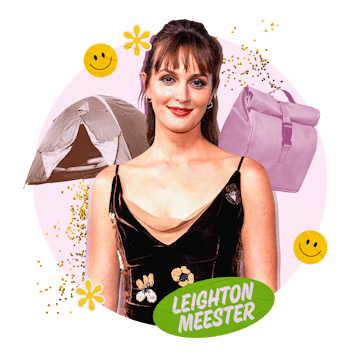 Ariela Basson/Scary Mommy; Getty Images, Shutterstock
A lot of celebrity moms want very badly to come off as everyday moms who are just like everyone else — even though their lives couldn't be more different than the average middle-class parent in so many ways. But in talking to Leighton Meester, I got the sense that she is walking the walk and talking the talk, as the Gossip Girl star described her relaxed, freeform summer, the family's latest camping trip, and her deep, sincere love of her family minivan.
And with back-to-school just around the corner (or already here), she was happy to talk about her volunteer work (which is, admittedly, on a larger scale than most moms) and her daily task of making her older kid, Arlo, a sack lunch each evening before school.
Sure, she likely has a bigger budget than most moms, and sure, she probably gets more help. But at her heart, Meester is all about being involved and present for Arlo, 8, and her 3-year-old son (who's name isn't publicly known). Along with her partner and fellow actor Adam Brody, whom she's been married to for almost a decade, the family of four are enjoying a pretty traditional and quiet life.
Meester sat down with Scary Mommy last week to talk about it all — that is, except her career, which she's avoiding talking about due to the SAG-AFTRA strike. Even though there are no updates on How I Met Your Father or The River Wild remake, she was down to talk about her summer of "forced" relaxation, how she's celebrating back to school, and her favorite books to read with Arlo.
Scary Mommy: Are you more of a scheduled summer mom or a relaxed summer mom?
Leighton Meester: I'm more of a relaxed summer mom. It's just chill. We just went camping. There's been some summer camp action. I was working and then now we're on strike — so it's like a forced, relaxed summer.
SM: How do you do camping? Do you have any good camping hacks for families who are heading out there?
LM: In my memory growing up, camping was laying on the ground and it's not like that anymore. There's a foam-like sleeping situation, so I actually had pretty good sleep, believe it or not.
We bring guitars, and then we realize that every other campsite around us also thought to do that. And then they're more professional musicians than we are.
Also I have a minivan. I very much enjoy that. That is a very useful vehicle if you're any kind of a human, but for a mom kind of human it's, very, very nice. You can pack that thing up to the gills.
We also, instead of just for camping chairs, we have like a sofa version where it's like kind of longer version multiple people can sit in one.
SM: I feel like we should make minivans cool again. Tell me about your minivan.
LM: I'm really into minivans. I'm very vocal about it. I think that it's a very important vehicle and that somewhere along the line people started hating on minivans and I think it's probably because moms famously drive them, and somehow moms are considered unsexy even though they had sex to get where they are. You know what I mean?
I think it's just somehow they're considered not cool, but I think moms are doing it. Moms are cool. They're also the easiest vehicle ever. It's like having like those like pod seats in an airplane, but like, everyone gets one and then there's so much room and it drives pretty well. I'm not like a crazy car person, but yeah.
SM: Tell me about your partnership with GoGo SqueeZ and growing up with food insecurity.
LM: They are going to be donating 250,000 meals to Feeding America . And it's for back to school, to fill kids lunches.
I've been working with Feeding America for the last six years, volunteering and helping to bring awareness to their organization. It first came to me back when my daughter was still a toddler. And ever since then I've been really lucky to work with them.
I've been so passionate working with them because growing up we also struggled with food insecurity and hunger. We relied on school lunch programs, after school programs, welfare, and food stamps. A lot of the time, we would, by the end of the month, go without, and put items back on the grocery store shelves at the checkout line. So I definitely can relate.
And now as a mom being able to feed my kids snacks or nutritious meals, it's incredibly vital and important. So it's a wonderful partnership and I'm really so grateful to be working with them.
SM: A lot of the free lunch programs and free breakfast programs are going away after the pandemic. They're much more limited now. What are your thoughts on that?
LM: The sheer number of children facing hunger every single day, it's unthinkable. Struggling, whether it's on the drive to and from school, not having breakfast, not having a nutritious lunch to eat after school programs that their parents rely on so that they can finish work, their commute. They just don't have what they need to sustain through the day to focus in school, to have a good night's sleep, to be set up for success.
The pandemic has increased those numbers of children who go hungry every day. One in eight children goes hungry. And it's unacceptable in our country.
SM: What can parents do who have food security and might have some extra time or funds?
LM: The main thing that you can do, aside from volunteering and bringing your voices, is donating money. A dollar equals four meals typically for family. And so that is a huge, huge number. While people kind of consider donating cans or non-perishables, actually donating money is the best way to do it. But if you can't do that, then lending your voice and bringing awareness — talking about it, sharing links, and making it less of a stigma.
And just knowing that it isn't always what it looks like. Sometimes it's a classmate or a coworker, somebody that you ride next to on your way to work. And it doesn't always look the same. Sometimes there's times of plenty and sometimes there's times where people just don't have enough to put food on the table for their family at the end of the day.
The other thing that's amazing part of this partnership is that when I post on social media, if you go to my page, you can comment an emoji of a fruit or veggie and with each one, GoGo SqueeZ is gonna be donating 10 meals, up to 250,000 meals, with Feeding America.
SM: Tell me about back to school at your house. What are your favorite lunch packing hacks and are you looking forward to the kids going back?
LM: I am, I am! It's always bittersweet. I love the summer; this is like my favorite time of year. But back to school is kind of like a fresh start when you get to make new plans and you have all new everything: new notebooks and a backpack and a pair of shoes.
And my kids' birthdays are in the summer, so they get all their new clothes that fit them instead of the high water pants where everything looks like a capri pant.
And then going back and seeing all your friends. We're really lucky. My daughter loves her school and loves her teacher and her friends. And she loves reading. Seeing her be able to read everything now is so fun.
My son is starting school, which is obviously bittersweet. It's like the saddest but sweetest thing and he's ready, you know.
We do pack their lunches for school, we pack their snacks. We prepare typically the night before. I do that. I try to give them plenty of nutritious snacks and meals. I try to get their help as much as I can in the kitchen. It doesn't always work out, but sometimes it does, especially when it's something easy.
SM: What what are you reading with your daughter right now? What, what are her favorite books?
LM: She loves comic books and graphic novels, so I do like all the Baby-Sitters Club and Baby-Sitters Little Sister. I really like Ghosts. And the Witches of Brooklyn, I really love reading those with her. I enjoy them so much. I also really like Raina Telgemeier.
This interview has been edited for length and clarity.