This Mom's Hilarious Saga Of Trying To Rescue Her Son's Frog Is Going Viral
The lengths this mom goes through for Kermit.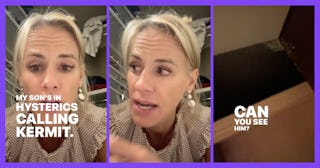 @brightsignslearning / TikTok
If you need to see the lengths moms will go to keep their kids happy, look no further than mom of four Shelby Rideout and her dedication to making sure her son's pet stays his pet.
In a now-viral TikTok seen by over 7.5 million people, Rideout whispers from her bathroom, speaking into the camera as if she's FaceTiming with a friend, hilariously describing her efforts to try and save her son's pet frog.
After suggesting to her son that they should take his pet frog out of his habitat and play with him for a bit in the bathroom, assuring him that everything would be fine, Rideout found herself in a bit of a pickle.
"The frog jumps around literally three seconds. It jumps to the vanity. There's a freaking construction hole under the vanity. This big frog jumps and is lost in the wall. My son's in hysterics calling, 'Kermit, Kermit,'" she whispers.
Like any fierce mom, determined to maintain the happiness of her son and not completely traumatize him for life, she hunkers down in the bathroom on the floor, waiting for the frog to jump into the trap she set up with a cricket in it.
"My son's asleep in hysterics, thinking he's going to have a dead frog in the wall — not on my watch," she says.
"I prayed to Saint Anthony. I put on sounds of crickets on my Google and I'm trying to lure him out. I've been in here for 35 minutes. I wish I could tell you I was joking. I've been in the closet for an hour."
She then takes the phone over to the infamous hole where you can see the frog's head poking out.
"The frog is prairie dogging out of the hole, which obviously means I can't go to bed. I got to wait this out," she says.
Rideout was praised for her dedication in the comments section on the viral TikTok.
"I aspire to be on this level of mom," one user wrote.
Another said, "ur such a good mom 😭 my childhood pet frog died cause my parents wouldn't even feed it when i went to camp 😭"
In a follow-up video, Rideout gave an update on Operation: Save Kermit.
Two-and-a-half hours later — with blatantly bloodshot eyes — Rideout gives an update on if she's secured the hiding frog.
After attempting to rescue the frog with tubing from a fish tank, more crickets, and even simulating another animal to trick the frog into thinking he's being hunted, Rideout still has not secured the frog.
After reading through comments, one user suggested that Rideout turn off the lights to help lure the frog out from the hole. She peeks around the corner of the bathroom closet, revealing Kermit has indeed left the hole. She then makes a run for it to try and snatch him up.
"I got him! Got him! I got him! I got him! I got him!" she whisper-screams in elation.
Rideout then says, "We had a fish die from mouth to mouth. I could not have two deaths on me this week."
Rideout is referring to a previous video on her page where she explains the outrageous but hilarious story that gives definite context into her absolute determination to save her son's frog.
Earlier in the week, she noticed that her sons' pet goldfish, Kai, was looking distressed. She sprang into action, reaching into the tank, pulling the fish out, and attempted to give the fish mouth-to-mouth. Unfortunately, the fish died 24 hours later despite her best efforts.
When she regaled the story to her husband later, he informed her that fish don't get air through their mouth. Whoops!
No matter. It's the love that's important here. And as so many parents know, the love we have for some of our pets is just a form of the love we have for our kids. Rideout is a premium mom, and her efforts won't be forgotten by her son.