Mom Asks TikTok To Play Her Daughter's Sheet Music With Amazing Results
It was her ten-year-old daughter's first attempt at composition.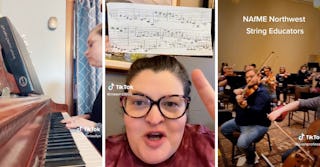 TikTok
A Pennsylvania mom made a video looking to crowdsource some musicians to help her decipher and play some sheet music her 10-year-old daughter wrote. What happened next was a beautiful moment of community and musical harmony.
Mimi Wallace — aka @meems1980 on TikTok — posted a video asking if there were any musicians that could play her daughter's music.
She says, "So my 10-year-old daughter wrote this. Could somebody play this? I need to know, I need to know if it's any good or makes any sense."
The video soon went viral with more than 4.5 million views and almost 400k likes.
"I come from a family of music teachers and I can read music but I don't have perfect pitch," Wallace told TODAY.com. "I wanted to know what Olive's music sounded like, so I asked TikTok."
Musicians on the app jumped on the opportunity to make this ten-year-old into a real-life composer, stitching Wallace's video with their own interpretations of the sheet music.
User @jennieallyn was the first to respond to the mom's request. While sitting at a piano, she says in the video, "It makes sense to me for a little while so I will play for you what I see."
She goes on to play the notes on her piano and says, "It is a brilliant start — I love it. Maybe someone else can fill in too."
"Literally so beautiful," she captioned the video.
After Allyn's stitch, Wallace started to receive videos from several other musicians playing her daughter's composition. Many people from around the world were playing music on different instruments like harp, piano and violin.
"Oh my gosh, we are blown away ... by how many people stitched the video and played her song," Wallace said in a follow-up video.
Olive says that her favorite rendition of the sheet music came from TikTok user @keepclassicalweird who played the music on violin.
"This was so fun!! Let me know how I did!," @keepclassicalweird captioned her stitch.
The viral moment peaked when an entire string orchestra called NAfMe Northwest String Educators responded to Wallace's request with a multi-part arrangement.
The caption on the video — posted by conductor of the orchestra, @poshprofessor, aka Christopher T.F. Hanson — reads: "@meems1980 we decided to orchestrate your daughter's beautiful melody and read it at the NAfME (National Association for Music Education) Northwest Division Conference in Bellevue, WA. Thank you for sharing her music with us! We hope you like our arrangement and performance."
Hanson is an assistant professor of music and the director of music education and orchestral activities at Seattle Pacific University and was honored to be a part of Olive's musical journey.
"It is a beautiful testament to creativity and connectivity through the arts," Hanson told TODAY.com.
"As a music educator, I am passionate about supporting artistic expression," he says. "I saw this TikTok exchange as a perfect opportunity to connect with a young composer."
After Wallace and her daughter live-reacted to the gorgeous rendition, Hanson commented, "I hope we did justice to your beautiful melody! on behalf of all of the string teachers at the NAfME Northwest Conference, keep making music!"
"You brought it to life! Thank you SO much! You have some serious talent! 💖💖💖," Wallace responded.
Conductor Hanson hopes to publish the performance as a PDF, so others can download it, and donate the proceeds to music educators in the Pacific Northwest.
After the orchestra's version of the song went viral, Wallace announced that Olivia had finally named the epic piece of music — "For Greatness We Bring."
Every TikTok stitch of Olive's now-viral concerto can be seen here.