My Childhood Makes This One Thing About Parenting So Damn Hard
Something a friend said really made me think.
by Diana Park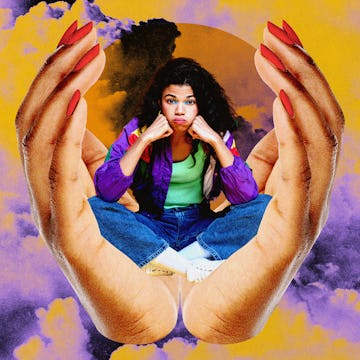 Ariela Basson/Scary Mommy; Getty Images, Shutterstock
Like so many other new parents when their first kid is born, I experienced a kind of worry I'd never felt before. I had visions of something terrible happening to him. It was excruciating for me to let anyone else hold him; I wanted him near me all the time. The fear was all-encompassing.
My gynecologist told me I was suffering from postpartum anxiety and should feel better in a few weeks. He also suggested I take short breaks away from my child. That was the last thing I wanted to do, and I ended up changing doctors and never talking about it again, because I didn't want someone telling me I needed to spend time away from my kids.
I had more kids. I was the only mother out of all my friends and family who didn't send my kids to daycare or preschool. Since I was fortunate enough to stay at home, I wanted to spend as much time with my kids as I could, even on the days I desperately needed a break.
I didn't leave them with a babysitter for longer than a half hour until they were in elementary school, and my ex-husband and I never went away on vacation without them because I couldn't handle it. I thought for sure something would happen to them if I weren't there. To say it interfered with my marriage is an understatement.
Around the time they were all in middle school, a friend of mine who is also a therapist told me she thought the reason I was so anxious and overprotective about my kids was because of the lack of nurturing I got as a child. "You are subconsciously trying to nurture your younger self because that's something that was missing from your childhood," she told me. Something clicked inside me that day. She wasn't trying to be mean or judge me; she was trying to help me understand. And while it made sense to me, I wasn't able to change the way I was raising my kids.
I'd grown up with her, so she knew how my parents raised me — they divorced, and I had to grow up fast because someone had to take care of my younger siblings. But my childhood wasn't that bad. I knew lots of people who had it worse. Still I've felt unseen throughout my entire life.
My kids are now teenagers, and they call me overprotective almost every day. I've gotten a lot better. But I'll admit that I've struggled with things like making them do something they are nervous about, not spoiling and giving them everything they want, and making them right their wrongs even if they are terrified to do it.
For a long time, I thought I was giving my kids an experience I didn't have, something I wanted badly when I was young. But now that my children are young adults, I've asked them if they thought I was over-nurturing and too concerned about their safety and comfort. Their answer, overwhelmingly, was yes.
So maybe I am trying to heal some of my old childhood wounds through my kids. Perhaps it is too important to me to give them a different experience than the one I had. I don't want them to feel like they must get a job at 12 and pay for all their own school clothes like I did. I want them to text me when they arrive at their location instead of believing I don't give a crap about where they are and what they are doing.
More than anything, I want them to know they are the most important thing to me. Nothing comes before them, and I will always listen to their needs. And right now, that means backing off and giving them some breathing room. It's time for me to face some of my childhood independently and nurture myself instead of trying to do it through my kids. I'll do it for them.
Diana Park is a writer who finds solitude in a good book, the ocean, and eating fast food with her kids.