Two Best Friends Made A Pact To Get Divorced & Start Their Own Family Unit
"We're raising a wonderfully non-traditional family..."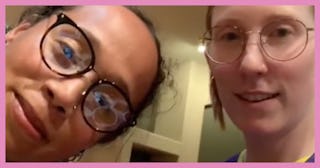 TikTok / @mountainm0mma
There's no arguing that being a parent is one of, if not the most, difficult and demanding jobs out there. Being a single mom? That's a uniquely difficult and totally different ballgame. Twice the work, twice the responsibility, and half the income.
Some single moms are taking a new approach by leaning on their friends for support. And not just a drop-off-for-an-hour type of situation, but more of a move-in-and-do-life-together type of support.
Some women call these cohorts "mommunes" while others just call it co-parenting with a best friend. Whatever the name, the concept of platonic families or platonic soulmates is becoming more and more popular.
TikTok mom Maddie Joy went viral on the social media platform after revealing that she and her best friend had a pact to get divorced, move-in together and create their own family unit. The video quickly gained 9.9 million views and over 1 million likes.
"It is what it is," Maddie wrote in text overlay over a video of selfie footage. "My best friend and I made a pact, both got divorced, moved in together, and now, she meal preps our lunches for the work week, I clean the kitchen, and we're raising a wonderfully non-traditional family while we all heal together."
Maddie also used hashtags like #platonicsoulmate, #nontraditionalfamily, and #platoniclifepartner.
So, what is a platonic life partner?
A platonic life partner does away with the "western ideal of the nuclear family" and takes a different approach by recruiting friends or deeply connected, non-romantic allies to help keep a home and raise a family.
In fact, multi-family households are the fastest growing household type over the two decades up to 2019, according to data from the Office for National Statistics (ONS). The decline of the heterosexual marriage can be traced back even further; rates are currently at their lowest since records began in 1862.
Based on recent studies, it seems that Millennial and Gen Z women are rejecting the archaic notion of 'settling down,' and if they do decide to do so, the picture may look a bit different than it has in the past.
According to Women's Health, a platonic life partnership is typically between two women, sometimes with at least one partner who's queer. Some pairs live together and raise kids together, others may choose to live close to each other but not in the same home.
In several follow-up videos, Maddie explains further about her platonic life partnership and how she and her best friend make it work for their home.
One user commented, "Is it hard raising your kids parallel? Do they get along? Is it hard not having the same parenting styles?"
Maddie actually explains that she is the only one with children, so there are never any disagreements when it comes to parenting the kids. "That being said, we have very similar philosophies when it comes to children and it's super duper helpful to have another set of eyes, ears, and hands around," she explained.
"So while I'm the one in the mothering role in this situation, she makes for an awesome auntie to the kids."
Another user commented on the video, wishing the besties well.
"I hope the days are easy and the nights are relaxing!" the user wrote.
Maddie responded with another video response which also featured her bestie as two made a cheers with their cups of hot tea.
As for the end game for these two, Maddie explained that they've talked about what the future holds for them, especially if one bestie falls in love or decides to remarry.
"Respectful question: is there a plan for if one of you wants to remarry or has a romantic entanglement?" the original comment reads.
Maddie replied, "The short answer to this is yes and no. We went into this knowing that she wants to get remarried in the future and I wasn't sure if I wanted to or not."
She goes on to say that she and her bestie already have new romantic partners, and they both have similar timelines for when they'd feel comfortable living with them.
"And so, we're just taking things one lease at a time," she said.
As for their future plans, these two best friends have better communication than most tenured married couples.
"We have frequent check-ins and just generally talk a lot about our relationship, our situations, and our current romantic partners. We've both been through a lot of therapy, figuring out why we ended up in the unhealthy relationships we did and unlearning those things to prevent us from being in those situations again," she went on.
"So in a lot of ways, we hold each other accountable in our romantic relationships. We both feel like we would be content being single and going about life like this forever. We're both also content with if one the other or both of us ends up in a long term romantic partnership. For us, it's less about a plan of action and more of a plan to communicate. will always be an important part of each other's lives, even if it looks different than it does right now."
Most of the comments on Maddie's videos were met with support and love, with some women even commenting that they have also leaned on their friends or were children of parents who decided to create their own family units with friends.
One user wrote, "My mom did this with her best friend while I was growing up and it was probably some of the best times of my life. Playing with her kids everyday 🥰"
Another said, "Both my parents did that and it gave me a lot of healthy role models for a young child of divorce!"
"LOL DOES EVERYONE HAVE THIS PACT WITH THEIR BFFS , dying bc I thought I was the only one😂😂🥰🥰," another wrote.
However, Maddie did receive some backlash from some conservative folks who could not wrap their head around the concept of a non-traditional platonic family.
"Be gone Satan!!!" it read in part.
"Imagine seeing a post about two best friends helping each other out through a difficult time in life and your first instinct being to tag your bestie to say 'haha! Could never be us! Because unlike these satanic fools, we're godly and we could just let each other suffer alone,'" Maddie replied.
Good point. It seems like if you have found a healthy, loving way to raise kids in today's world, you are doing absolutely great.