A Luxury Postnatal Retreat Center In NYC Is Going Viral On TikTok
Boram Postnatal Retreat comes equipped with massages, 24/7 childcare and gourmet meals for mom.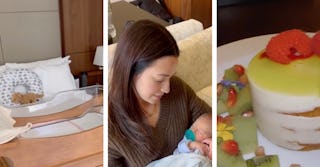 TikTok / Marissa Grossman
There are few kinds of exhaustion and panic that trumps that of bringing home a newborn baby for the very first time. After a few glorious days in the hospital with order-in food and nurses checking in every hour or so, they tell you to kick rocks and you're instantly on your own and responsible for keeping a human alive and happy.
Suddenly, you're driving home with this tiny baby in your backseat, and you're just supposed to know how to breastfeed with no issue, figure out a sleep routine, get some sleep, and keep a clean house all while you're wearing the equivalent of an adult diaper while recovering from physical trauma?
Who willingly signs up for this? Oh, I did. Right!
Now, wouldn't it be amazing if there was a place that new parents could go before "real life" begins? A place where moms could recover from the birthing experience, catch up on that sleep debt, and learn the basics of how to take care of a newborn during that fourth trimester?
There's good news!
If you live in New York City, this heaven-like place I'm describing is available to you!
A new mom is going viral on social media after sharing her postnatal experience at the Boram Postnatal Retreat where she and her husband checked in after having their son.
Marissa Grossman, aka @fashionambitionist on TikTok, documented her experience at the postnatal retreat which prides itself on "investing into care in the fourth trimester lays down a solid foundation for the recovery and development of both mom and baby."
"Immediately after giving birth to Jude, we checked into a postnatal retreat in New York City called Borum," she explains in the video now seen by almost 1 million users. "I learned so much during my stay."
She then shows footage what looks like a luxury hotel room, including a large seating area, large bed and a bassinet for baby.
However, this retreat is not just a place for mom to sit back and relax. It's also a learning experience for new parents with full-time staff and informative classes for parents to take.
"There is 24/7 education care," Grossman wrote in text on the video. "Postpartum doulas, newborn & maternal nursing assistants, lactation specialists, and newborn care specialists."
She took classes on infant CPR, infant care, mental health, and postpartum fitness. She and her husband also learned how to swaddle and sponge bathe their little one.
Every sort of postpartum supply a mom could ever need is included like diapers, wipes, and lotions. The retreat also has a 24/7 monitored nursery so you can rest and recover while baby naps away.
And when retreat guests aren't chilling out in your super swanky room, they're ordering food from a menu filled with healthy, restorative gourmet options. And if you're in-laws want to stop by, they're more than welcome.
"Visitors are welcomed and encouraged," Grossman continues. "So we had a ton of fun with all of our loved ones."
So, you're telling me that I could have gotten all of those quick drop-ins to see the baby out of the way early and I didn't have to worry about picking up my mess of a house? We need these kind of retreats everywhere.
Well, in Korea, these already are everywhere.
Boram Postnatal Retreat — which opened in May 2022 — is named after its cofounder, Boram Nam. She told Insider that in Korea, where she was raised, Boram means "a fruit of one's labor."
She explained that in Korea there is already a well-established postnatal-retreat concept called sanhujori. Sanhujori is the Korean system of care for mothers postpartum offered at choriwons (postpartum care clinics).
In Korea, a postpartum care survey from the Ministry of Health and Welfare revealed that 81.2% of mothers used this service in 2021, increasing from 75.1 percent in 2018.
New moms stay for an average of 30.2 days and spend about 2.49 million won (approximately $1,844 US dollars) for a two-week service.
Sanhujori includes eating healthy foods, daily exercise and helping the postpartum body recover. Many facilities offer massages and classes on how to take care of your newborn right on premises.
"They stay there for at least two weeks, sometimes a month," Nam told Insider, noting that postpartum care in America pretty much sucks.
Can't say I disagree there!
In recent decades, the U.S. has witnessed a considerable rise in maternal morbidity and mortality.
In 2018, the maternal mortality ratio was 17.4 per 100,000 live births (the highest among industrialized countries), with wide racial and ethnic gaps including 37.3 deaths per 100,000 live births for black mothers compared to 14.9 per 100,000 in white mothers.
Approximately half of the deaths occurred in the postpartum period (defined as up to 1 year after giving birth).
Additionally, up to 70,000 individuals per year in the U.S. experience severe postpartum morbidities, including cardiac events, postpartum hemorrhage, kidney failure, and postpartum depression, anxiety, and PTSD.
Should I even go into parental leave policies in the US? Or the lack of universal, free health care?
Boram — like so many other moms — delivered her kids and said she "couldn't think straight" because of the lack of support for postpartum mothers.
"When you're discharged from the hospital, they throw all these instructions at you," Cho said. "No matter how many books you've read about parenting, you need to be shown firsthand."
Nam said that guests typically check in for three, five, or seven nights. The retreat is located on the ninth floor of the 5-star Langham Hotel in Manhattan. She said she'd already taken bookings for March 2023 from women who've only recently found out they're pregnant.
So, how much do you need to spend in order to be able to enjoy this postpartum oasis?
Welp, a room costs between $843 and $900 a night. However, there is the possibility that insurance could reimburse some of that cost. The Boram website has an entire list of possible insurance write-offs from CPR classes to lactation consultation.
There is no doubt that dedicated postpartum care improves the health and well-being of mothers and their babies. There is so much science to back that up. And for as amazing at Boram and the concept of sanhujori sound, the pricing seems just too out of reach for the moms who probably need this the most.
"Pricing is so out of touch with many new mothers financial reality," one user commented on Boram's official TikTok page.
"I doubt any of these moms would be going home to poor nutrition & single motherhood. That's who needs this but can't afford," another user wrote.
If only we could find some sort of middle ground between this (definitely privileged and expensive) postnatal retreat and the current general postnatal care system that the US has. Until then, you'll have to up your pennies for a stay at Boram.