book banning is always bad
Scholastic Book Fairs Are Under Fire For Allowing Schools To Opt Out Of Diverse Books
The company admits they created an easy option to avoid controversial books, but they say it's for a good reason.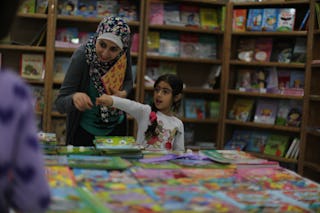 NurPhoto/NurPhoto/Getty Images
Book banning is at an all-time high across the country this year, and now the Scholastic Book Fair is caught in the crosshairs, wedged firmly between a rock and a hard place. While some people are condemning the company, which is nostalgically ingrained in many of our hearts forever, for working with book banners to make banning easier, the company is arguing that it's simply making it easier for schools located in states with book banning laws to continue to have book fairs at all.
Here's a closer look at what's happening.
It all started in early October, when teachers and librarians across the country began posting about how Scholastic had sequestered their books about diversity, LGBTQ+, and race, away from its other selections — and making it very easy for schools to "opt out" of any offerings that could be construed as being offensive. Called the "bigot button" by a few, many anti-book banners condemned the new practice.
"I just saw that Scholastic Book Fairs put all of their 'diverse' books into a single book fair case and have given school libraries the option to exclude those books from a school's book fair. This seem like they are capitulating to ultra-conservative groups that want to ban books about immigrants or racial, neurologic, or family diversity," wrote one person on a Reddit subforum about books. "My school's librarian was upset that Scholastic has effectively created a "bigot button" to exclude these beautiful inclusive books because some conservative districts don't want their kids to see them. This has her so upset she is contemplating ending the school's long relationship with Scholastic."
Below the post, a number of librarians and school professionals weighed in, saying that their Scholastic rep had confirmed the change.
On Monday, Scholastic provided a list of 64 titles to The New York Times, which included a "children's biography of Supreme Court Justice Ketanji Brown Jackson; a fantasy novel about a Lakota girl; a graphic novel featuring the Black Panther superhero; and a book about different family types, such as adoptive families and families with same-sex parents."
Scholastic also released a statement Monday explaining why it had made the change.
"There is now enacted or pending legislation in more than 30 U.S. states prohibiting certain kinds of books from being in schools — mostly LGBTQIA+ titles and books that engage with the presence of racism in our country," reads the statement in part. "Because Scholastic Book Fairs are invited into schools, where books can be purchased by kids on their own, these laws create an almost impossible dilemma: back away from these titles or risk making teachers, librarians, and volunteers vulnerable to being fired, sued, or prosecuted."
They go on to say that their only other option was to not include diverse titles at all.
"To continue offering these books, as well as even more high interest titles, we created an additional collection called Share Every Story, Celebrate Every Voice for our U.S. elementary school fairs," they continued. "We cannot make a decision for our school partners around what risks they are willing to take, based on the state and local laws that apply to their district, so these topics and this collection have been part of many planning calls that happen in advance of shipping a fair."
It's not clear how many states have actual legislation and how many only have "pending" legislation.
While that seems to make at least a little sense, even though it's still upsetting, this is not the first time Scholastic has recently been under fire for how it's engaging with diverse books and authors. In April, Maggie Tokudo-Hall says she was asked to remove several parts from her children's book in order to become a liscensed Scholastic book — parts that were about the diversity of her character and her story, including a mention of Japanese internment camps during World War II.
At the time, author Kelly Yang responded with a powerful video.
"As one of your top authors, I'm asking you to have more courage," she said. "You cannot be quietly self-censoring. Whatever pressure you may be facing, know that your authors are facing even more pressure. And we're still out here writing these books. Risking our lives. Bleeding to make you millions. Trying to write the books for the next generation that will hopefully improve the world."
While some people are remaining true to the Scholastic Book Fair — one that they remember from their youth — others say that the company is grabbing for profits instead of standing up for what's right.
Mychal Threets, a TikTok creator and librarian in California, stressed that the billion-dollar education company needed to make some tougher choices.
"We are fighting for the freedom to read," he said. "We are celebrating the freedom to read. Join us. You are the powerhouse. Use your voice."
Another educator, Maureen Johnson, responded to Scholastic's statement simply: "When you start removing content that book banners want removed so you don't have legal trouble, you are quite literally doing their work for them. You are holding the door open and inviting them in."