These Are The Best Sex Toys For Couples, According To Experts
by Tabitha Britt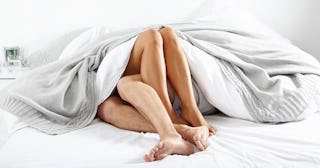 Getty Images/Flashpop
Solo play is nice (like, really nice), but sex toys for couples can take things to a whole new level. Whether you're into vibrators, dildos, cock rings, butt plugs, G-spot (or P-spot) massagers — there's bound to be a sex toy out there that's perfect for both you and your partner during coupled play. And, if you and your partner are in a sex rut (or if you're not!), bringing a new element into the mix can make things extra fun and exciting.
"Mutual play with adult toys can help your bedroom experiences to evolve," says Megan Harrison, a licensed marriage and family therapist (LMFT) at Couples Candy. "For some couples, a sex toy may be all it takes to ignite the spark they've been missing. For others, sex toys can be a gateway to bringing sexual fantasies into reality."
What are the best sex toys for couples?
Finding the perfect sex toy for you and your partner takes a bit of research. It also depends on your personal preferences and individual comfort levels. Remember: Communication is an important aspect of any relationship, so before assuming that your partner is going to be OK with adding a sex toy to the mix, it's crucial that you speak with them first.
"Open communication is essential," says Harrison. "Not being clear in what you want can leave you both feeling awkward, insecure, or even upset. Being open-minded about your partner's sexual preferences and desires will undoubtedly increase your intimate connection, especially if that open-mindedness is reciprocated."
Your Go-To Shopping Guide for Coupled Play
Before you go on a grand shopping spree (I mean, definitely still do that), there are a few things you should know and take into consideration, such as price, material, lubricants, etc.
Here are a few tips from a few of my favorite sexual health and wellness experts:
Do your homework. There are literally thousands of sex toys out there, from unicorn dildos to urethral plugs. Before you venture into your wallet for your credit card, do a bit of research. "Navigating the sex toy jungle is not as easy as it seems. For couples who are still dipping their toes into sex toys, familiarize yourself with the different sex toy categories," says Dainis Graveris, a certified sex educator and relationship expert at SexualAlpha. "Read more about them with your partner and see what sex toys speak to you the most. If you don't want the toy to overwhelm sensations you're familiar with, you can start with toys that target your pleasurable zones."
Shop together. Shopping together can make a potentially awkward situation less awkward. (Bonus: It may lead to a hot romp afterward!) "Shopping together for the toy is also great because you and your partner(s) get to see the full array of options and, if you go to a shop in person, you can try out the different settings and options together," says Sarah Brown, a certified sex educator with more than a decade of experience. "If you're shopping online, turn it into a date night with wine, food, and the option for some sex and pleasure right then and there. The cool thing about shopping online is there are so many review videos and tips for how to use most products so it's both a shopping adventure and research for future pleasure."
Choose quality over quantity. I know it's hard to drop $100 or more on just one sex toy when you can get several for $30 a pop, but please think about what the product is made of before loading your cart with cheap, and potentially dangerous, toys. "Be sure to look for quality products from reputable retailers such as Lovehoney if purchasing online," says Harrison. "All of the products they stock will be made of body-safe materials and a satisfaction guarantee with every product. If you are unhappy with the item, you can return it free of charge, even if it's been used!"
Best Sex Toys for Couples
The Best Sex Toys for Long-Distance Couples
When you're in a long-distance relationship, finding new ways to be intimate can be difficult. So, if you feel like your hand is about to fall off from manual stimulation or you're worried that your partner is glazing over during your sexy speeches, you may want to consider investing in sex toys that were designed for long-distance couples.
"There aren't many options for long-distance couples to be intimate while apart and there's only so many times that sexting, phone sex, or being sexual on video chat works before they lose their excitement," says Nate, the founder of Lasting the Distance, a long-distance relationship advice website and community. "There is also a level of connection or physicality that they can't replicate. Sex toys, especially those that can be paired together, are a great way to enhance an LDR couples intimate and physical connection."
This article was originally published on