Simple Sleepover And Slumber Party Ideas For Your Little Social Butterfly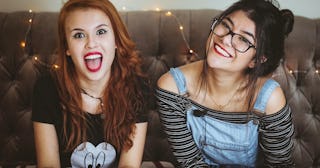 Matheus Ferrero/Unsplash
Slumber parties are the best… for kids. For mommies and daddies around the world, the idea of a sleepover might sound like a bit of a headache. You're guaranteed zero sleep, at least one bathroom catastrophe, a couple of fights and a phone call home for a frightened party-goer. Still. You remember how much fun you had at all your slumber parties, right? The pranks. The snacks. The giggles while building and then residing in epic forts. There's something just so special and magical about spending the night with your besties. As a parent, you might be secretly dreading the slumber party, but we also know you're secretly anticipating the fun your littles will have. These ideas will help you earn "world's best mama" after just one sleepover. So, ya know, you never have to do it, again.
RELATED: 12 Crazy Cool Tie Dye Patterns Your Kids Will Love
What To Do/Activities
1. Build A Fort
We've seen a lot of extra glamorous slumber parties where each guest gets their own tent or teepee. That's fantastic, if you have the resources. But, don't let the need to be "Insta-worthy" keep you from having a sleepover or building a fort. The best forts only require some ingenuity…and fairy lights. Plus, if everyone is in one fort, it's a lot easier to keep the whispers and giggles lasting all night.
RELATED: Best Tie Dye Kits For Bored As Hell Kids & Moms (+How To DIY Tie Dye)
https://www.instagram.com/p/B-KxY5Ch_Sm/?utm_source=ig_web_button_share_sheet
2. Makeovers
The bare minimum you need for a makeover is some old (but not too old) or cheap makeup, some face masks and nail polish. If you really want to go big, add in things like foot masks (and maybe even a foot spa) or lip masks and buy some washout chalk hair dye.
3. Truth Or Dare
But, like, what is a slumber party without a little good old fashioned "trouble" in the form of Truth or Dare?
4. Movie Marathon
You can spend hours scrolling through Netflix, so don't wait until the party to let your kids pick out their movies. Maybe your teen wants to have a "To All The Boys" marathon? If so, definitely include "bake cookies" to your list of things to do. Maybe now is the perfect time to introduce them to the Brat Pack or to Heath Ledger? Work with your kiddos ahead of time and consider having a few options for everyone to vote on once the party arrives.
5. Karaoke
Do this early. For everyone's sake.
6. S'Mores
Classic s'mores are delicious, but you can also up your game by buying some other kinds of candy bars or flavored grahams. Let the mixing and matching begin!
7. Have A Glowing Good Time
Once or twice a year, the Target Dollar Spot sells packs of glow sticks and glow jewelry for super cheap. You can also find glow-y items at Dollar Tree. And, after Halloween, it never hurts to grab some glow-in-the-dark paint or nail polish on clearance. Glow stuff is cool, no matter what. Painting an outdoor bowling set with glow paint can make for some late night fun. You can also follow this video on how to tape glow sticks onto your body and make a fun Daft Punk-inspire TikTok.
8. Tie-Dye Shirts or DIY Pillowcases
Crafts are a must. If you have the guts, send your kids out back with some tie-dye kits and white t-shirts so they can each create their own tees. Another, more on-theme option is to do DIY pillowcases. Work with your kid(s) to find cool graphics online and then print them on iron-on transfers. Once your guests arrive, they can pick out their decor and you can iron it onto their pillowcases. You could even give them a chance to find their favorite font, type up their names and then make iron-ons with those, too.
https://www.instagram.com/p/B9KQEOqgoIf/?utm_source=ig_web_button_share_sheet
9. Trivia Night
Your kids are smart… and probably all obsessed with the same thing. How about making a personalized, in-house trivia night? You could make it specific to their new Friends obsession or their long standing relationship with Harry Potter or How I Met Your Mother. Look up some trivia questions, break them into teams and let them play against each other. If you're feeling particularly evil, you could even make it more of a JEOPARDY!-style night and include some categories from things they've studied recently in school. Or include categories of other obsessions. Even better, what about the rules of the road for your soon-to-be-licensed teen? Ask your kiddo and we're sure they can give you plenty of material. Just go easy on wrong answers and include more fun stuff than school stuff. The night is supposed to be about having fun, right?
How To Decorate/What Your Need
You could do a kitschy moon and stars theme and go all out decorating, but part of the fun of slumber parties is that kids finally feel like they're past a "theme." Instead, maybe try a color scheme. You can buy party plates, cups and utensils in their colors. You could even add a few balloons. To really personalize things, consider buying a ton of fleece in their colors and making simple fleece throw blankets for each guest. If you do the DIY pillowcases, you could even coordinate the colors of those, too. The most important aspect of a sleepover, though, is that it feels comfy. If you can, drag mattresses to a central spot and steal every pillow and blanket possible. Even if they don't match, the stacks or piles of blankets and pillows will give the party room a cozy, lush feel.
Indoor Glamping
Pinterest would have you believe an indoor glamping experience with tents and lights need to be expensive to be cool. But actually, you can get the same experience for nearly nothing. If you have some flat sheets in the linen closet and Christmas lights you can fish out from storage, you can create a magical outdoor experience into your living room. All you need is a little imagination.
What To Serve
1. Popcorn
Popcorn is especially important if you're having a movie marathon. Get the movie theater butter kind. You only live once.
2. Movie theater-like Candy
Hit Dollar Tree and grab up some of those boxes of various candy that you find in the theater concessions: Snow caps, Sour Patch Kids, M&Ms, etc. Aside from the popcorn, let each guest pick out their favorite sweet to munch on during the movie.
3. Pop/Soda
Consider limiting the quantity and definitely have options for kids who still don't want it.
4. Sundae Bar
Ice cream is a no-brainer. Making their own sundaes will be messy, but oh-so-fun.
5. DIY Pizzas
Pizza is a classic. But, ordering pizzas for a large group can be a total pain. If you're up for a bit of a mess, DIY personal pizzas are the best option. Buy some small pizza crusts, a jar of sauce and a large bag of cheese for the basics. For toppings, consider: Pepperoni, canned pineapple, a couple pieces of leftover bacon chopped up (or just some Bacon Bits), some ham lunchmeat torn apart, a bag of frozen onions/peppers sauteed earlier in the day. Set them all out in bowls or on plates and let your guests go wild. One helpful tip: Buy more than one pizza crust per kid (maybe one and a half per kid) because sometimes a DIY pizza adventure turns into a DIY pizza fail.
6. Puppy Chow
You could even make this together.
In The Morning
1. Play A Prank
When a couple of your new friends have risen but a few more remain asleep, pull a few pranks. Keep in mind that you don't want to do anything too mean-spirited or they might not want to return.
2. Make A Fun Breakfast
There is absolutely nothing wrong with just sitting out some Dunkin or the cereals. If you're feeling more ambitious, though, you have other options. You could consider a pancake charcuterie board, fully of mini pancakes and anything a kid could ever want to put on them. You could also put together a donut decorating station. Another easy option? DIY Smoothies.
3. Set Up Outside (When Possible)
We don't know about you, but often the most stressful part of a sleepover is fighting the urge to clean up before your guests leave. While you organize breakfast, have your guests pack up their things and set them in a designated spot. Then, send them outside to eat and chat. While they're outside, you'll have the chance to do all the little things you feel like you need to do to restore order to your world.
This article was originally published on