10 St. Patrick's Day Coloring Pages That'll Make Your Kid Feel Super-Lucky
Break out the colors of the rainbow.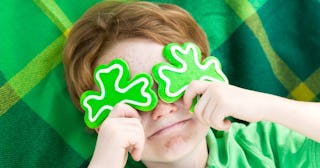 Funwithfood/Getty Images
Consider this your lucky day, Mama! If you're on the hunt for something fun to do with your kid on St. Patrick's Day, you came to the right place. Because really, what could be more fitting for this holiday full of good fortune than finding out we created a bunch of free St. Patrick's Day coloring pages for you to download? It's probably safe to say the luck of the Irish is on your side.
But first, let's start with a few interesting facts. Did you know that the real St. Patrick — although the patron saint of Ireland — was actually born in Britain near the end of the 4th century? How about the fact that leprechauns are most likely based on the Celtic belief in fairies that practiced magic? And, hey, perhaps you'll prepare a traditional St. Patrick's Day lunch of corned beef and cabbage to enjoy while your kiddo fills in these coloring pages. Well, just know that if you want to honor the actual Irish tradition, you'll need to swap the corned beef for ham! The corned beef was an American innovation to save money (it's cheaper!).
Now that you're all the wiser about this holiday, have fun coloring these free printables with your little lucky charm.
Free St. Patrick's Day Coloring Pages
1. Boy With a Pot of Gold
Ah, the elusive pot of gold — who among us hasn't tried to find it (to no avail) at the end of a rainbow? Live vicariously through this little lad, who clearly proved more successful than we ever were. Speaking of pots of gold, leprechauns get a bad rap for being sneaky, but if you're sweet to them, they might fill your home with riches. According to legend, it happened to a nobleman who gave a leprechaun a ride on his horse. And fun fact: St Patrick's official color was actually a sky blue. The holiday was linked to the color green after the 18th century.
2. Another Boy With a Pot of Gold
While the first boy with a pot of gold dove right into his spoils, you can pretend like this generous little fellow is handing his pot to your kid. What would they do with all of that gold? Ask them and prepare to laugh at their adorable answers. And did you know the first St. Patrick's Day parade was held in America? Although it's been in Ireland since the 1600s, the first festival was in Florida.
3. Shamrock Hat
As your child uses every shade of green imaginable on this coloring page, you can share a few fascinating tidbits about shamrocks with them. Our favorite? Although often confused with four-leaf clovers, shamrocks actually only have three leaves. In the Middle Ages, children believed that if they carried four-leaf clovers, magical fairies would appear.
4. St. Patty's Day Girl
Considering the fact this little girl is surrounded by a cloud of shamrocks, we're going to guess fortune is on her side. Bonus activity: Sharpen your child's counting skills by having them tally up how many shamrocks they see in the picture. It's both educational and magical. Speaking of extraordinary, leprechauns actually belong to the fairy family. According to some Celtic stories, they fixed the shoes of the other fairies. Contrary to popular belief, they aren't related to any of Santa's elves.
5. Pot of Gold
Not keen on splitting your pot of gold with anyone? Here you go — your very own. Make things even more fun by trying to guess how many gold coins are in this cauldron. Bonus fun fact: If you were to fill a standard pot with gold, it would hold about 271.36 ounces, which rounds out to more than $400,000!
6. Shamrock Girl
Haven't had any luck discovering a shamrock in real life? Don't fret; this little girl's got you covered. Fun fact: Leprechaun means small body, which makes it the perfect name for these tiny tricksters. Funnier fact: St. Patrick wasn't Irish. He was actually Roman.
7. Leprechaun Hat
Don't be surprised if your kid goes straight for the green crayons to color in this leprechaun hat. However, you could print out duplicates and tell them to use their imagination. If leprechauns had another favorite color, what would it be? Well, it would actually be red. According to earlier descriptions of leprechauns, they wore red outfits and sported many kinds of hats.
8. Shamrock Boy
What a dapper young lad this is, right? Between his top hat and gleaming belt buckle, there's no mistaking him for a shamrock boy. If you ever want to see some fun St. Patrick's festivity, Chicago dumps green dye into their river every year!
9. Rainbow
Encourage your little one to give those green crayons a rest (they're probably worn down to nubs by now!) and turn their attention to this rainbow page. Sadly, you can't actually reach the end of the rainbow. It can't be touched and no matter where you go, it will always be the same distance from you because it's an optical illusion.
10. Girl With a Pot of Gold
What would your kiddo do if they actually found a pot of gold at the end of a rainbow? If they're anything like this little lass, they'd kick back and enjoy a hard-earned rest before spending their spoils.
Click here to print all of the free St. Patrick's Day coloring pages at once!
This article was originally published on