A Mom Responded To The Claim That Target's Boy Clothes Aren't Masculine Enough Anymore
Her response to the those complaining that Target has an agenda to "make boys look like girls" has gone viral.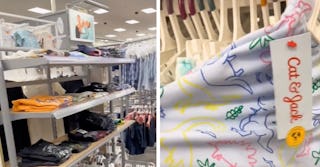 TikTok / @jolenedolo
Kids clothes shopping is a headache. Every store has a different size chart (so if you want to have a couple different brands for your kid, you better get out the measuring tape), and in lots of cases the styles of what's available is just totally lacking.
Big box store, Target, seems to always be at the center of controversy when it comes to their kids' clothing selection — and it honestly seems like they cannot win no matter what they do.
Either parents are fed up that there are too many dinosaurs and trucks on boys' clothing or the bright colors and occasional rainbow (OH NO!) on a "boy" shirt is pandering to some sort of (made up) liberal agenda.
One mom went viral back in August 2022, when she recorded the selection of boy clothing in her local Target, explaining that she she was going to "scream" if she saw one more dinosaur on a shirt.
TikTok mom Taylor Garner shared her shopping frustrations saying, "The boys' section at every clothing store is going to "shark" and "dinosaur" you to death."
"I mean, how many variations of a T-rex do boys need?" she continued. "Y'all don't think boys want to wear something else besides dinosaurs and sharks."
Other moms chimed in on Garner's rant, noting they felt the same about the lack of options for boy's clothing.
"Even if I could just buy solid colors I'd be happy. Like I don't want dinosaurs and sharks," one user wrote.
Another chimed in, "Dinosaurs, sharks, trucks, and cars. My oldest is 24 and it's been that way since I had him."
In an update, Garner raved that Target had stepped up their game when it came to boys' clothing, "They got a good variety over here, Target! Bravo!" she said as she panned the new display.
However, there are some other parents on TikTok who are not too pleased with the updated selection. One user, who is now private on TikTok, went off on Target's attempt to bring color and variety to all their kid's clothing, partially by adding rainbows and bright, non-traditional colors to the boys section.
The user claimed that the retail corporation was attempting to make young boys "look like girls" with the bright, fun, colorful shirts they were selling.
Friendly reminder: colors do not have assigned genders (despite what society has told us for eons).
The gender neutral graphic t-shirts in the video showed rainbows, funky patterns, and sharks with flowers on their eyes. The text in the video read: "Pushing the agenda to make our boys look like girls against our will is just sick."
Several comments on the video denounced the TikToker for being up in arms about how the clothing section at Target wasn't "boyish" enough, and one mom even went to Target to prove that (if it really matters that much to you) there is tons to choose from for your "manly boy."
"For all those moms who are like 'Oh my god, the boys section is so girly now!' Let me show you something," TikTok user @jolenedolo narrates as she scans the shelves at Target.
She then walks over to a couple more racks of clothing (away from the terrifying rainbow dinosaur and flower shark), "Look at this, boy shirts — Mickey, Blippi, Spiderman," she says.
The mom then pans over to another section of clothes for the parents not sold on graphic tees. "Oh look at this — dinosaurs!" she says holding up a pair of shorts. "Rainbows bother you? That's cool because they have like 18 different dinosaur prints without rainbows."
"Don't you worry, manly babies," she says facetiously. "Target has you covered."
She suggests just taking a quicker look around before sharing with the internet that you cannot find any sort of "boy" clothing for your son.
"If flowers aren't your thing, and pink is upsetting to you," she continues. "Just move the rack around a little bit, and you'll find your very basic "boy" [clothing]."
She then preemptively strikes at those who are bound to make comments about how their local Target doesn't look like that, by suggesting they shop online.
The video — which garnered over 300k views in under 24 hours — caught the eye of several parents who agreed with her sentiment, commenting that they do not particularly care what kinds of clothes their kids wear.
"My toddler recently picked out a shirt from the boys section, I let her get it. Why? Cause she LIKED THE DAMN SHIRT. Period. Let children be children," a user wrote.
Another user pointed out that people are complaining about the exact thing they were begging Target to do. "They didn't get rid of anything they ADDED ask how long have people been asking for MORE options for boys," they said.
Gender neutral clothing is not something brand new at Target. The big box store announced almost a decade ago that they were making changes to how they labeled and signed their stores based on gender.
Also, is there a law I missed somewhere that requires parents to only shop at Target for their son's clothing? Why are these moms acting like there are not quite literally hundreds of other places they could shop for their kids? The internet exists for a reason.