every family is different
This Non-Traditional Family Just Adopted Their Second Child
"We didn't really have time to think. It was just sort of a whirlwind."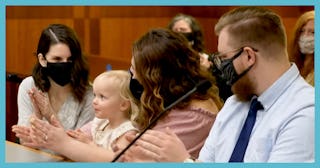 The Oregonian
In May 2022, three friends got together and adopted a child through foster care. Moms and best friends, Caitlin Asher and Amanda Oelrich, started fostering children together as roommates. Then, Chris Oelrich joined the platonic family when he began dating (and then later married) Oelrich.
The three friends never planned to adopt through foster care, but when the trio learned that the child they'd be fostering since birth, 2-year-old Bella, would not be eligible for the family reunification process, they all agreed to adopt her, live together, and co-parent her as a threesome.
A day after the adoption, Asher received a call from the Oregon Department of Human Services. They were looking for a foster placement for a little girl born May 21.
The baby turned out to be a Bella's sister, Sofia.
"We didn't really have time to think. It was just sort of a whirlwind," Chris Oelrich told The Oregonian. "Most people get nine months to prepare. … With Sofia, I started cooking a pot of pasta and by the time that pot of pasta was finished, suddenly there was another kid."
The siblings, believed to be full biological sisters, both have blonde hair, blue eyes and "matching cheek dimples."
"As soon as I knew she existed, I just needed to go to her," Amanda Oelrich said.
The three parents picked Sofia up from the hospital, and she's lived with them ever since.
"For months, it was really surreal," Asher said. "People would be like, 'How do you feel? How do you feel?' How are you supposed to feel? I started the day, and I had one child, and then I ended the day, and I had two kids."
While having two kids in the home wasn't anything groundbreaking for the platonic family (foster children have come in and out of their home since adopting Sofia), the conversation changed when Bella came into the picture.
Asher and the Oelriches shared that talks about about what might happen if a sibling to Bella was born had happened from time to time. Before driving to see Sofia in the hospital, the threesome talked about what this meant for their growing family.
"Chris was like, 'Do we need to talk about anything?' I said, 'I think all I need to know is that this is Bella's sister, and we have space, that's enough for me,'" Asher said. "He said, 'OK.' And Amanda said, 'Yep, that's it.'"
A week and a half after Sofia's first birthday, her adoption was finalized in court. Similar to Bella's adoption paperwork, Asher signed as the sole parent, and the Oleriches will have power of attorney for both girls.
"It's unique and beautiful and really a testament to how the definition of family continues to grow and broaden," Judge Amy Holmes Hehn said during the ceremony, "and that's good because it means more children with more loving, supportive adults in their lives."
In a heartwarming Instagram Reel, Asher shared the family's exhilarating and exhausting 8 month journey which included adopting Bella and later, Sofia with so much life happening in between.
"The last eight months have been a journey of a lifetime in and of themselves. I'm so glad I get to do it all with these people. You're my home team forever," she captioned the video.
Just more proof that your family doesn't have to be traditional to be filled with love.