A TikTok Mom Shows Exactly How Dads Are Treated Differently At The Doctor's Office
Wow, what a "hands on" mom!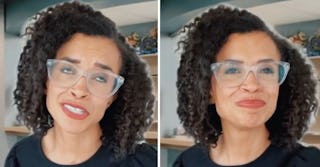 TikTok / @clarabellecwb
A mom on TikTok is going after that age-old tale of dads being praised for literally doing the bare minimum while moms are judged for the slightest mistake. And it's both too true and totally hilarious.
Clare Brown (@clarabellecwb) has had enough when it comes to dads being treated totally different than moms when it comes to the millions of everyday things that come with being a parent. In a recent video, Brown turns the tables on what it'd be like if moms were treated like dads at a kid's doctor appointment.
"Mom! We never get moms in here," she says, impersonating an admin at a doctor's office, poking fun at the fact that dads are typically absent from events like doctors appointments and checkups for kids. "What a wonderful way to spend time with your child. It is so important."
She then lays it on thick saying, "I know you're so busy but you're making the time."
Brown goes on to demonstrate that if moms were treated like dads at the doctor's office, forgetting information about your own kid (even going so far as to say their date of birth) would be instantly forgiven.
"That's okay, mom, you tried," she says. "I think that's all that matters. Why don't we have dad fill this in at the next appointment?"
The skit continues on with the "mom" in the scenario getting the appointment time wrong (that's blamed on "dad") and eventually defaulting the entire next appointment onto dad's shoulders.
"I have never found my mother at my doctor's appointment growing up," she says in the skit. "You are one lucky little boy to have a mom like her."
The TikTok video — which garnered over 180k views and almost 40k likes — had tons of moms chiming in on this all too familiar scenario where mom is expected to "do it all" while dad is an all-star for the bare minimum.
"It's always so nice to see moms babysitting their kids," one mom commented facetiously.
Another wrote, "Oh mom! She tries so hard. Really, dad should appreciate that she even tried."
"So many moms never would've even tried to do this. It's clearly impossible and time consuming," Brown replied.
Another TikTok user related all too well to the switch-up skit, noting that her dad forgot her own birthday when he took her to the doctor as a kid. "He didn't know my middle name or DOB," she wrote.
Other moms commented — confirming that when their husbands did take the kids to the doctor — they were treated exactly like this. "The last time my toddler had a check up, her dad took her. The nurses TOOK HER INTO ANOTHER ROOM so her father could fill out the paperwork in peace," she wrote.
Another wrote, "My husband gets so mad when the doctor's office does this to him. He's like, 'Is that bar really that far in hell?"
Yes, the bar truly is that low for dads.
The term "default parent" has been trending lately, often referring to the parent in the relationship that is automatically the one to go to for a child's needs. To no one's surprise, that tends to be the woman in cishet relationships.
However, it should be noted that research shows that dads are more involved in child-rearing than they used to be. A 2022 study found that modern dads are actually more engaged with their kids than fathers of previous generations.