Traveling With Autistic Kids Shouldn't Be This Hard
Luckily, some organizations are trying to make traveling with neurodivergent family members more accessible.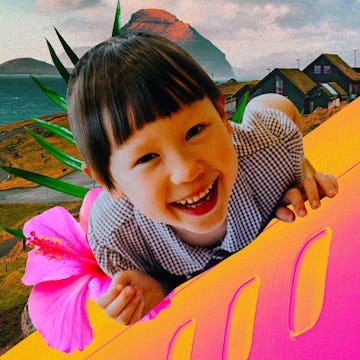 Emma Chao/Scary Mommy; Getty Images
I love to travel, but by the time I've made it past airport security I need a very large glass of cabernet, a deep-pressure hug and a place to rest immediately — perhaps a therapist, too. The sight of people zig-zagging through lines is dizzying and the hustle and organizational skills of corralling my children, carry-ons, and documents is an impossibility. Putting up with all the other sensory input overloads every inch of my psyche as an autistic mom.
Inside my brain is neurodivergence, meaning I have a brain that works in a way that might not be what is common, or neurotypical. Sure, there is an expected level of anxiety most experience when traveling, but to the extent that I and other neurodivergent individuals experience it? I'd wager not even close. And it's not anxiety centered around the plane crashing. It's about what happens inside my body as I enter the automatic doors of the airport: sensory overload.
My internal body temperature even gets out of whack, which, in fancy terms, is called interoception. I'll go from hot to cold to cold to hot all while smiling and trying to be kind to the TSA workers when, in reality, I'm rehearsing what comes next in my airport excursion and looking for a place to get a cold drink or another cup of hot coffee to help counterbalance the dysregulation. Am I alone in the excitement and intense dread? Do others avoid it all together? But I'm certainly not alone. Curious to hear from other autistic and neurodivergent parents, I asked my friend Krystal Prashad, a fellow neurodivergent mom with an autistic son named Ronin, how she prepares.
Prashad told me that she literally packs up a portable sensory room for Ronin that she sets up once there that helps him get his needs met: LED lights, a sensory bin, squishy pillows, fidgets, and a weighted blanket. John Scott Wells, an actor friend of mine, also has an autistic son. He flat out avoids airports and airplanes because of how unpredictable each experience will be, saying, "With flying, you're at the mercy of the airline." He told me the very first flight experience they had together, they had to wait over five hours at their gate for their return flight. Needless to say, they're now a road trip family because they have better control of the situation.
So where does that leave us neurodivergent folks? Of course, everyone deserves enjoyable travel experiences. To that end, various organizations are working to make traveling easier for neurodivergent folks.
At airports
KultureCity — which, full disclosure, I work with — is the leading sensory inclusion nonprofit that aims to make places and spaces sensory inclusive. They've worked and are working with various airports such as the Missoula, Montana Airport, Indianapolis International Airport, Birmingham-Shuttlesworth International Airport and others to provide sensory pods and rooms to make traveling a pleasant possibility. And there are other airports and airlines that are providing similar services,too. The goal is to create these spaces throughout the airport (right after security, for instance), where you can decompress before continuing on.
On cruises
If a neurodivergent family fancies a cruise, consider taking one on Carnival, the only cruise line certified in sensory inclusion, meaning their staff is aware of invisible disabilities such as autism, ADHD, anxiety/panic and dementia to name, thanks in part to their partnership with KultureCity.
For browsing
Check out AutismTravel.Club online if you're traveling domestically. The site provides a list of hotels and attractions that have trained staff. Champion Autism Network (CAN) is a South Carolina-based autism awareness nonprofit that has worked with Myrtle Beach to make it a positive experience for families with autistic members. Pick up a CAN Card, which is a way to visibly show various restaurants, hotels and local attractions that you or a family member is autistic and in need of possible accommodations.
While we certainly have a long way to go to make the world a more inclusive place, there is so much more out there than ever before. There are many organizations putting in work to make it so neurodivergent friends and families and others with sensory processing differences can get to wherever they'd like to go. That's pretty darn rad, and I am celebrating this work and off to plan my next trip…to Jungfraujoch, Switzerland (Any funders? Anyone? Anyone?).
Meg Raby is a mom, children's author of the My Brother Otto series, and Autistic residing in Salt Lake City where you can find her playing and working with neurodivergent children as a Speech Language Pathologist and friend, or writing and planning big things in the second booth at her local coffee shop that overlooks the Wasatch Mountains while sipping on her Americano. Meg believes the essence of life is to understand, love and welcome others (aka, to give a damn about humans).