The Best Bounce Houses You Can Buy For Party Time! Excellent!
We only recommend products we love and that we think you will, too. We may receive a portion of sales from products purchased from this article, which was written by our Commerce team.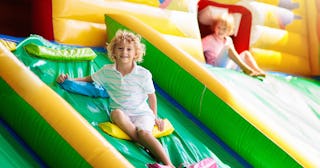 Getty Images/FamVeld
A bounce house for a toddler is a dream come true for just about any kiddo. They have *so* much energy — it's truly the perfect environment for them to have fun and burn off some of that endless enthusiasm. How do toddlers do it? They could be tugging on your pajamas half the night, refuse any food that doesn't start with "Cheer" and end with "-ios," buck their nap, and somehow they still have enough energy to bounce off your walls. Meanwhile we're a gallon into our coffee intake for the day and can barely open our eyes. It's truly not fair. Toddler bounce houses to the rescue! (Pair a bounce house with a Disney character-themed party, and you'll literally win an award.)
This year, a bounce house rental for one day might not cut it. With our kids more cooped up than normal, one sure-fire way to expel their endless energy is with a backyard (or indoor!) bounce house. Let them bounce their way into exhaustion with one these, the best bounce houses for toddlers on the market. Some even have inflatable pools attached, making it perfect for a hot summer day! Pull it out for birthday parties, backyard cook-outs or just any random Tuesday. Hell, if you have the square footage, blow it up inside any time of year, no reason needed. You'll be the coolest house on the block.
Convinced? Read on for the best bounce houses for toddlers. Quick, add one of these to your cart so you can guarantee tuckered-out kids by the time you want to settle in to watch next week's episode of Real Housewives of Atlanta.
Best Bounce Houses for Toddlers
Best Toddler Jump Houses & Kids Jump Houses
This article was originally published on