Awaken Your Baby's Senses With These 17 Touch And Feel Books
We only recommend products we love and that we think you will, too. We may receive a portion of sales from products purchased from this article, which was written by our Commerce team.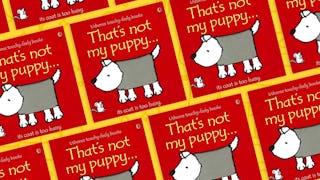 As a mom, naturally, your first instinct is to tell your kids "don't touch!" But that's where these touch and feel books swoop in to save the day… 'cuz those are definitely not off-limits. Let's face it: The thing about babies/toddlers/preschoolers is that they like to touch everything. Your freshly painted walls, the perfectly arranged displays of produce at the supermarket (cleanup on aisle five, anyone?), the list goes on. Encourage interaction without causing a $h!tshow with a slew of touch and feel books that require babies to utilize all five senses. You'll find everything from touchable elements to pull-out tabs and even fun scratch-and-sniff panels. Not only will you instill an early love for reading, but your child will develop valuable motor skills in the process.
Keep scrolling for 15 sensory books for babies that deserve a spot on your bookshelf in 2022. Whether you're reading before bed or during playtime, these colorful picture books and puppet books (get on it, busy mamas!) are guaranteed to be a hit. With the wide range of themes (from zoo animals to Disney characters), we strongly recommend snatching a few of these up as gifts. Once you've hunkered down for the long winter ahead, trust us, you'll be glad to have something to occupy your littles' attention during your weekly Zoom meetings.
Take learning to a whole new level during storytime with Baby Touch and Feel: Colors and Shapes. Not only will each page show your little one a new color and shape, but it'll also include some sort of "feel" element to enhance their reading and learning experience. Yep — touch and feel on every page.
If your little one loves baby animals (and I mean, who doesn't?) this touch and feel book from Bright Baby is the obvious choice. From puppies and ducklings to tiger cubs and more — this book will even have you saying "awww" after every page turn. One mama reviewed the book on Amazon and said, "My baby is 10 months and has recently started reaching for this book. He did not pay any mind to it in the [beginning] but about 2 months later, he has been going through the pages and touching the small fluffy, textured areas. It's a great book to take on the road as he gets [entertained] by it for about 20 minutes!"
While polar bears are normally ferocious creatures, here's one instance when it's okay to touch! Complete with silicone touch-and-feel features, this bright and vibrant board book is guaranteed to be a hit with children of all ages. Silly rhymes will make this fun to read out loud around the fire or before bedtime. Says one parent, "It's great for kids who don't like to sit still. The textures are awesome, the words are silly and sweet. It's a great book! It's not a long book but it's perfect particularly for infants."
We know there are some Frozen fans that are obsessed even before they can say the words to sing along. This Touch and Feel Forest book is perfect to immerse them into the fantasy world of Anna, Elsa, and Olaf. One reviewer said, "Preschoolers love this book. It's a short book but the textures are varied & the story follows through the elemental spirits in a way that gives element a personality."
Lean into everyone's favorite season (okay, we may be a tad biased) with a variety of textures. Start by touching a pumpkin and then shuffle through some leaves (crunch, crunch). Next, head over to the harvest fair to sample fresh donuts, artisan breads, and apple pie. Get lost in the corn maze, maybe?! Parents think this book brings a ton of fall fun. "What a great little board book," one noted on Amazon. "The book is well made and the images are colorful and a delight to see. The words are easy to read and follow. The touch and feel parts are great. Little ones will love rocking in your arms as you read and they can reach out and touch/feel the various things."
Lean into toddlerhood with this sensory board book that encourages playful interaction. With prompts like, "feel the snail's smooth shell," "touch your fingers to the raindrops," and "tap the drums," your little one will never grow bored. There's even a shiny mirror for them to look into! Parents have given this book 4.8 stars out of five, claiming that this book is a total game-changer. "Instead of trying to eat the book it actually keeps his attention," said one parent of a toddler. "He wants to feels everything. He won't even let you turn the page until he has had enough of the page he's on. I feel like it's helping a lot with his development. It actually makes him want to explore and read books."
Allow Mr. Giraffe to kick off storytime with this interactive finger puppet book recommended for preschoolers. Your toddler will get a kick out of being able to "feel" the puppet. Note to mamas: Whip this bad boy out when you're in the middle of cooking dinner or in the car (i.e. the commute home during effing rush hour). "My granddaughter loves giraffes and this was the perfect Christmas gift for her. Her little two-year-old hands and fingers can easily handle the small size and since it's a board book, she can't tear the pages! We've had lots of fun reading this little story book together!" said one happy Amazon customer.
He's quick! He's curious! He's a li'l monkey by the name of George. As if you needed any more convincing, this touch 'n' feel board book—chock-full of cute illustrations and touchable textures—is the quintessential bedtime read. The plot follows George as he unwinds for bed through a variety of tasks (including but not limited to putting on his striped jammies). Parents gave it a 4.9 out of five on Amazon, which is tough to beat. "This is the cutest bedtime book ever!" said one parent. "My toddler loves the touch and feel elements specifically in this book, especially the sticky banana peels!"
This delightfully interactive book examining different types of animal tails from Matthew Van Fleet has it all. Textures to touch, pull tabs, and even a scratch-and-sniff. "What a beautiful book!" stated one parent on Amazon. "Both my 2-year-old and my 5-year girls love this book. The touch and feel aspect is fun for the little one and the different animals are fun to explore with my older daughter. I love books by this author and highly recommend them."
Your big boy (or girl) is officially ready for his/her first touch-and-feel word book. May we suggest snatching this one up STAT (and while you're at it, snag an extra copy for your BFF's upcoming baby shower too)? Containing 150 words and 30 touch-and-feel elements—even sticky toast—this brilliant picture book will require your child to utilize all senses. "Our other texture books have nothing on this one," said one Amazon reviewer. "I can't believe it's as affordable as it is! So much for the price!"
It's unanimous, moms. Toddlers la-la-love Baby Einstein books. They're enamored by the bright colors and fun textures that require them to "touch, feel, trace, and talk." This specific installment takes readers on a journey as a bunch of backyard animals recount their favorite playtime activities throughout each season. Parents on Amazon love this particular book for its bright colors and the fact that the pages are easy for their kiddos to turn by themselves.
Yes, we are putting yet another finger puppet book on your radar, but this one is too dang cute to leave out. The story documents five little piglets as they go about their busy day. This book is great for helping to build eye-hand coordination, and the pig puppet is too cute for this to not morph into a favorite. "This book is perfect for very young babies," says one Amazon reviewer. "The text is very short; just the simple 'This Little Piggy' poem. But the finger puppet makes the story come alive, and so would be appreciated by older toddlers too, especially if they try to say the poem and run the puppet. My ten-month-old nephew loved it, especially when I made the 'piggy' call his name and give him kisses!"
Mealtime is something we all experience — why not introduce it to your baby in a fun way? In this touch and feel board book, young children will get to experience everything from sequined cups to shiny forks. For many kids, it's helped make dinners slightly more interactive. "The kids love to read it during meal time and match what's on the table to what's in the book!" said one parent on Amazon. "They are especially obsessed with snack time and announcing their favorite foods! This book also has different texture features on the food."
Adults and children alike will gravitate toward this aesthetically pleasing board book containing 3-D images of vehicles (from a car to a spaceship) and a cluster of related words. This is great for younger kids, since the book is hard to destroy. "These are excellent books, especially for children who don't like to sit still, or who are very tactile and hands-on. The pages and 3-D images are extremely durable, so my very rough little boy can't damage the books," said one Amazon reviewer.
Go ahead and add this gem to your list of baby-friendly dinosaur books to invest in 2022. Let your little one's imagination run wild with a variety of rubberized textures (hence, the "touch" element) and colorful illustrations. Bonus points for the fun rhymes warning of the dangers of touching a dino in the flesh. Oops… too late.
It's never too early to learn about the solar system, and this title will help. This interactive book will quickly morph into your child's favorite. There's a touch and feel element to this book, but it also has bright colors that'll intrigue small kiddos up to the age of six. "Such a beautifully illustrated book about the solar system for kids. Bright and colorful with different touch and feel elements on every page. Most other touch and feel books we have, don't have that! It was out of this world!" said one Amazon customer.
An oldie, but goodie, this OG children's classic (originally published in 1940) has been around for generations. Odds are your mom read it to you as a child, and now you'll make new memories with your little one. From areas to scratch (Daddy's face stubble) to touchable elements (like a furry bunny), be prepared to utilize all five senses. Is your baby's room actually complete without this book in their library?
For more toddler-approved books and kids gear, be sure to check out Scary Mommy's Spotted finds.