WTF Do I Wear Now? The Fashion Essentials You Need To Transition From Summer To Fall
by Amanda Davis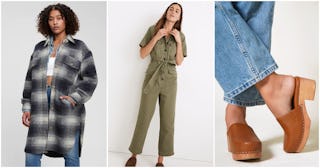 GAP/Madewell/Charlotte Stone
Fall fashion is some of the chicest and most comfortable outfits of the year — all you've got to do is get past the weird summer to fall transition. Yep, we've hit that late summer/early autumn part of the year when the weather is as varied and random as your teenager's mood swings. One day there's a pleasant cool breeze in the morning air, and the next we're back to sweating our way through an Indian summer afternoon. How the hell are you supposed to dress for this? Well, there are a few essentials you'll definitely need.
RELATED: Be-leaf Me, These Are The Best Dresses To Wear To A Fall Wedding
First, a denim jacket — it's the ultimate layering piece. Put it on for chilly mornings, take it off for warmer afternoons. Second, an easy maxi dress (just because we aren't quite ready to let go of summer yet). Lastly — and probably most important — booties! Trust me, great booties are worth the investment and we've got a few great options for you below.
RELATED: The 8 Best Jean Jackets You'll Want Right Now— And Will Be Wearing FOREVER
To add a little versatility to your closet with things that can work for every season, there are a few other items you may want to keep an eye out for too. Get your layers ready mama, we've got the perfect transitional pieces to get you through this weird time of the year.
Best Summer To Fall Transition Outfits
Best Fall Fashion Essentials
This article was originally published on