170+ Cute, Punny, And Pop Culture Pig Names That Aren't Hogwash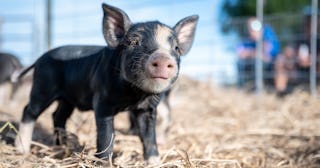 Brett Sayles/Pexels
Are you thinking about adopting a pig? If you have the right home for it, pigs can be wonderful and loyal pets. And, if a porcine pal does join your family, finding the perfect moniker may help your pig's personality shine even brighter. Pig names aren't just handy for pet adoptions, either. They also serve as excellent inspiration for writers who might be penning a children's book or kids looking for a great name for their new stuffy. The best part about pig names, though, is that they can be really creative. A pig can have a noble name or a human name — or their name can be a complete pun that'll make people laugh every time they hear it.
Here are a few good pig names if you happen to be drawing a blank. Just remember, whatever name you choose is bound to be best-in-show. On the hunt for a stuffed pig for a child? You might want to print this list out for them to consider. But no matter who ultimately picks it, the winning name is surely somewhere below.
Pig Names in Pop Culture
Pop culture has brought us some of the best pig names of all time. There's nothing wrong with naming your piglet after a famous pig that came before them. Pop culture names may also be easier for the whole family to remember. So, if you're naming a small pig and have a child, they may side with one of these.
Wilbur (Charlotte's Web)
Miss Piggy (The Muppets)
Piglet (Winnie The Pooh)
Porky (Looney Tunes)
Petunia (Looney Tunes)
Hamm (Toy Story)
Arnold Ziffel (Green Acres)
Pumbaa (The Lion King)
Orson (Garfield and Friends)
Peppa (Peppa Pig)
Waddles (Gravity Falls)
Hen Wen (The Black Cauldron)
Spider-Pig (The Simpsons Movie)
Plopper (The Simpsons Movie)
Mr. Porky (The Simpsons)
Sir Oinksalot (The Simpsons)
Babe (Babe)
Petal (Gilmore Girls)
Rosita (Sing)
Happig (Pokémon)
Anquer (Pokémon)
Boarest (Pokémon)
Grumpig (Pokémon)
Madame Oink (Chuck 'E' Cheese)
Alpha Pig (Super Why!)
Napoleon (Animal Farm by George Orwell)
Snowball (Animal Farm by George Orwell)
Squealer (Animal Farm by George Orwell)
Old Major (Animal Farm by George Orwell)
Bebop (Teenage Mutant Ninja Turtles)
Maxwell (Geico ads)
ManBearPig (South Park)
Fluffy (South Park)
Gub-Gub (Doctor Dolittle)
Pua (Moana)
Tattoo (The Secret Life of Pets)
Cute Pig Names for a New Pet Pig
Pigs are cute! So, why not give them a cute name to match? Here are a few worth considering.
Bella
Meaning: Beautiful or lovely.
Dottie
Meaning: Gift or beautiful.
Darla
Meaning: Dearling or darling.
Gizmo
Meaning: Gadget.
Piper
Meaning: Pipe player.
Daisy
Meaning: Day's eye.
Pinky
Meaning: Little finger.
Hamilton
Meaning: Crooked or dun hill.
Quincy
Meaning: Fifth born.
Boone
Meaning: Good.
Winston
Meaning: Joy or stone.
Willy
Meaning: Resolute protector.
Apollo
Meaning: Manly beauty.
Dorothy
Meaning: God's gift.
Luna
Meaning: Moon.
Ava
Meaning: Guarantee or bird-like.
Honey
Meaning: Sweet.
Rosie
Meaning: Beautiful rose.
Lucy
Meaning: Of light.
Food-Based Pig Names
Let's not focus on this fact for too long, but there's a reason why pigs named after food are kinda irresistible. So, yes — it might feel a little morbid, but not so if you're providing a loving home. (Some of these names will be even funnier if you're vegan or vegetarian!)
Pepperoni
Chris P. Bacon
Ham
Sausage
Pork
Truffles
Pork Roll
Fry
Muffin
Enchilada
Taylor Ham
Latke
Meatball
Oreo
Taco
Slider
Peanut
BLT
Burger
Frankfurter
Carnitas
Pork Chop
Gammon
Pancetta
Pig Newton
Punny Pig Names
Looking for more of a laugh? Luckily, there's no shortage of punny pig names. Plenty of celebrities have names that can morph into perfect pig names. So, if you have a favorite, it's time to start brainstorming. In the meantime, here are some great names worth considering:
Hamlet
Kevin Bacon
Jennifer Lopig
Hogwarts
Pygmalion
Syndey Porkier
Sooey
Piggy Smalls
Chewbacon
Jimmy Dean
Gordon Hamsey
Ham Beesly
Natalie Porkman
Albert Swinestein
Beatrix Trotter
Piggy Azalea
Merle Hoggard
Duke of Pork
Ham Solo
Elvis Pigsley
Peter Porker
Amy Swinehouse
Tommy Hilpigger
Hammibal Lector
Jimi Hamdrix
Jon Hamm
Heather Hocklear
Hamela Anderson
Lindsay Loham
The Notorious P.I.G.
Pig Names That Everyone in Your Family Will Love
Naming a pet can be very difficult — even if that pet happens to be a stuffed animal. There are reasons why certain names constantly top the popularity charts, and it's because they're beloved by all. If you and your family are still looking for a good name, here are a few that everyone can easily fall in love with.
Dahlia
Benny
Jewel
Lucky
Jazz
Scooby
June
Yogi
Tyson
Piggly Wiggly
Snort
Squirt
Chewbacca
Pepper
Dozer
Buddy
Pig Names That Start With P
Pacific
Meaning: Peaceful.
Paden
Meaning: Path hill.
Palmer
Meaning: Palm tree or name of someone who has been on a pilgrimage to the Holy Land.
Parker
Meaning: Park keeper.
Patrick
Meaning: Son of Patrick.
Peanut
Meaning: Groundnut legume.
Pearson
Meaning: Pearson.
Penn
Meaning: Hill.
Penny
Meaning: "To peel" or unraveling cloth.
Patricia
Meaning: Noble.
Pepi
Meaning: Pepper.
Pig Names for Boys
If you have a pig, congratulations! And if you have a male pig, here are some names that'll be perfect for your little brother.
Acorn
Avacado
Buddy
Buttons
Chipper
Collar
Chubbs
Clarence
Clyde
Cookie
Dexter
Dollop
Doug
Erving
Flapjack
Franklin
Gerald
Hoggy
Hammy
Hal
Hoover
Hoofy
Iggy
Isaac
Ikey
Jeb
Jumbles
Joe
Pinto
Pauly
Radley
Rico
Ridgley
Scout
Squish
Squid
Squeaks
This article was originally published on