Pink Smashes Therapy Stereotype: 'It Isn't For Weak People'
by Cassandra Stone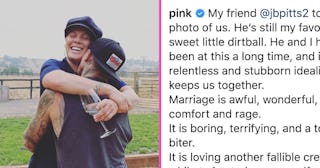 P!NK/Instagram
In a post dedicated to Carey Hart, Pink beautifully credits going to therapy for their relationship success
In her most recent Instagram post, Pink is getting super candid about her marriage to Carey Hart and how the two of them are able to remain together — by going to therapy. While this isn't the first time the singer has opened up about going to therapy and how important it is in her life and marriage, her latest post is beautiful and inspiring. She even tackles the stigma surrounding therapy head-on.
"He's still my favorite sweet little dirtball," she writes in the caption. "He and I have been at this a long time, and it is our relentless and stubborn idealism that keeps us together."
She touches upon the reality of being married to someone, particularly for a long time and when you've become parents — spoiler alert, it's far from easy. It's hard work. Every single day. But it's absolutely worth it when you both work to be better separately and together.
"Marriage is awful, wonderful, comfort and rage," she continues. "It is boring, terrifying, and a total nail biter. It is loving another fallible creature while trying to love yourself. It is a lifetime of coming back to the table."
Then she dives head-first into the therapy aspect of her marriage to Hart. It's clear she's well aware of the stigma and the fact that because she and her husband are famous, people might not be willing to be open-minded about their work in marriage counseling.
"They roll their eyes when we talk about therapy," she writes. "But I'll tell you what. It's worth it. All of it. Even when it isn't. Therapy isn't for weak people or hippies or liberals. It's for broken people that want to be whole. It's for runaways that want a family. It's a lesson on how to sit down and listen. How to love yourself so that the other person can, too."
Last year, Pink shared that she and Hart have been in therapy for nearly the entire time they've been together. She said that because each of them come from "broken" families — which means they both likely have their own baggage and traumas surrounding unhealthy relationship patterns — it's important for the two of them to work on keeping their family together.
"Carey and I have been in couples counseling almost our entire 17 years that we've been together," she said in an interview with Carson Daly for the Today show. "It's the only reason we're still together. He speaks Polish, I speak Italian, and she speaks both. We don't speak the same language."
She ends her recent post with a shoutout to her partner of nearly two decades. "I love you babe. I'm grateful we made it to this photo."
This article was originally published on